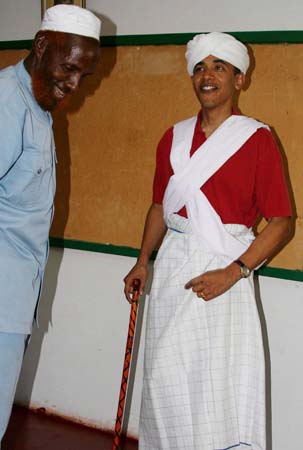 No, really. If it's on WorldNetDaily, it must be
true
.
Barack Obama was programmed for years by his atheist, Muslim (Ed note: isn't that an inherent contradiction?) father, by the communist sex pervert Frank Marshall Davis, by con man Tony Rezko, by domestic terrorist Bill Ayers and others â?? most of all by black liberation theology screamer Jeremiah Wright. Obama's resume is largely manufactured. There is a total blackout on his college years. His campaign obscures what he did as a "community organizer." All his radical associations are denied or minimized. His miserable legislative record (voting "present" over 100 times to avoid taking a stand), his lack of achievement, his radical views and so on â?? all have been laundered through the magic of public relations into the near-sacred saga of "The One" who has been sent to serve, and to save, America.
Kupelian goes on to say that Obama is going to raise your taxes, teach your kids the gay, abort your fetus personally, destroy Israel, impose Sharia law and probably fuck your wife in the ass too, though I got bored and kind of skimmed most of the laundry list. And we're all falling for it because he's black and we have white guilt.
But not David Kupelian. Not white guilt there, no sir. He sees through the massive liberal media communist conspiracy to put an America-hating radical socialist in the White House. Why won't anyone listen?
Oh, and on a related note, did you know that Obama was really born in Kenya, so the Supreme Court needs to shut this election down lest we have a "constitutional crisis?" (Because doing that would be constitutionally kosher, right?)
It must be tough being a crazy racist fundie these days and losing to a black guy.