I, like everyone else who grew up in the 80s and came of age in the 90s, had a Nintendo. Because my folks weren't big on me playing video games, I was always a few generations of gaming machines behind my peers. They had Super Nintendo, and whatever the hell came after that, and I still had the original - including the original, come-with-the-machine games Duck Hunt and, of course, Super Mario Bros. (For the record, I made it to the final level, but never actually beat that demon thing. I was always terrible at Duck Hunt. Some of us weren't made to shoot things, real or imagined.)
Anyway. There was no better way to kill an afternoon and some brain cells that to hit the bong a little - sorry, Mom - and try to convince Mario or Luigi to successfully dodge those stupid canons and little critters en route to jumping the flag pole at the end of every round. It was fun.
But if you ever wanted to be Mario, and jump from brick to brick and bang your head into little boxes that would spit out those blessed gold coins of life, rather than just imagining yourself as him on the idiot box, some dudes from New York would like to give you that opportunity. See it after the jump.
<@jump>
They would like to build a Nintendo Amusement Park. And using a system of bungees, they'd like to make it possible for you to recreate Mario's moves, live and in person.
Nerdtastic, isn't it? Check out their promo.
"Unlike a passive 'amusement' park ride, Physically Augmented Reality puts a player in direct control of their movement," their web site explains.
And here's how it might look: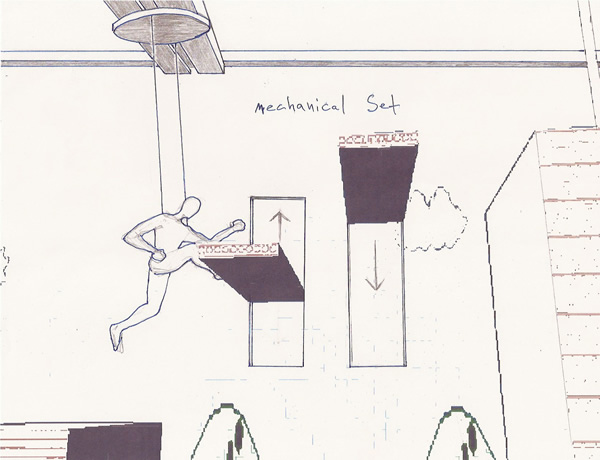 OK, so here's where Orlando comes into this scheme, which I'll go ahead and proclaim totally awesome. The fellas apparently need some start-up cash, about $250k or so - a pittance, really - to get the ball rolling. And they would love to work with Central Florida's own Imagineers:
We have chosen to borrow the Nintendo name, and video game aesthetic, as they are the largest inspiration for this project, but we are interested in working with anyone who shares our vision.
We are looking for contacts and investors in event promotions, trade shows, stunts, gaming, amusement parks, and haptic engineering.
Our ideal partnership would be a collaboration with Nintendo and Disney Imagineering to develop an entirely new experience.
Are you an Imagineer? Do you know someone who is? For the love of God, please make this happen.