Seriously.
Wes Pierce is nuts
. Our favorite old-school letter-writer – you can find his archive of OW-related
asylum-wall ramblings
thoughtful responses
here
– is like the fly in our ointment that we welcome if only for the brief company it provides. Every so often, Mr. Pierce dials the feedback up a notch – he once sent us a yummy
gingerbread house
for Xmas – and drops a loaf of genius on our lonely doorstep. Today is one of those moments. Check out the cover art:
After we picked our jaws up off the floor (and had it sniffed for bombs and human flesh), we opened it to find an early Christmas gift!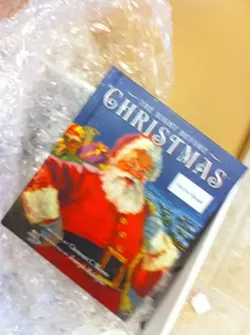 A copy of The Night Before Christmas that allows you to record your own voice reading it! He had his reasons. They were many.
But what concerns us here at For Reels is the accompanying letter in which Mr. Pierce contributes his own take on our DVDs Nuts! weekly column of new-release, usually indie or foreign films that we recommend. Free of tie-in release dates or, well, any unifying theme, really, Wes gave us some old, some new and some genuine WTF. A man after my own heart. Here it is, in full, unedited. Enjoy.
Here are some Lesser-Seen "Wes"Approved Titles you might want to consider including in a "DVDs Nuts!" column;
"The Hired Hand": Peter Fonda stars as a cowboy who returns to the wife and daughter he abandoned in this Poetic, Beautifully Photographed Western. Actually it's more of a character study than a Western. The Late Character Actor Warren Oates plays Fonda's Riding Buddy. This is the only movie in which Peter Fonda starred in that he has a beard and he never looked more Handsome or sexier and he looks every inch a cowboy.
"Grizzly Man"; German Director Werner Herzog made this Documentary about The Late Timothy Treadwell a guy who liked to live with Grizzly Bears and who met a grisly end at the claws of a Grizzly Bear - one of them tore him to pieces and ate him - along with his girlfriend. What gets me is that in the Documentary they keep saying "The Real Tragedy was that he took the girl with him", she wasn't a girl she was a woman and she went with Timothy Treadwell (who looked a lot like Aaron Eckhart) because he was a Good Looking Guy who was also a Bad Boy (he fondles Bear Shit in the Documentary!) - Timothy didn't put a gun to her head and kidnap her.
Land of the Lost: Universal Pictures paid Will Ferrell $29 million to star in Land of The Lost a movie based on a cheap Saturday Morning Live Action kiddie tv show that I didn't even watch when I was a kiddie. The problem with Will Ferrell in Land of the Lost isn't Will Ferrell it's the movie, it's just a Bad Movie. It's so Bad you won't believe how bad it is until you see it. Deleted scenes include cameos by the Actors who played Will & Holly in the Land of The Lost tv show - the Actress who was the original Holly threw up on the Director when was shooting her scene!
The end. Thank you, Wes, for your thoughtful contribution and the gifts. We honestly love you. And as for the column, I'll take it into consideration, though you might want to send your CV to the Sentinel across the street. Handwritten, of course.