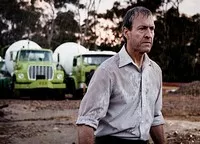 So here we are, having made it through two-thirds of the year, only a day away from the official start of the Toronto International Film Festival and the unofficial starting gun for the 2010 awards season. Before the Finchers and the Weinsteins can go and shake up the ranks too much, here's a look at what Justin and I have really liked so far and what we are really looking forward to.
As far as stipulations go, I wouldn't say this is my official list, having caught a couple of things at a few film festivals that have yet to be distributed or have simply yet to open here (Steven Soderbergh's And Everything is Going Fine, Ji-woon Kim's The Good, The Bad, The Weird and Giorgos Lanthimos' Dogtooth would all rank). As for whatever has opened here, I've admittedly missed out on - and intend to catch up with - the highly acclaimed Mother, A Prophet and Restrepo.
Now, with all of that out of the way...
1. The Square: In this Australian thriller about one man (a perfectly hangdog David Roberts) and his ever-worsening attempts to escape his best laid plans, newcomer Nash Edgerton wrings classic noir tropes for every ounce of suspense they're worth with a keen eye for direction and a slyly sick sense of humor laced throughout.
2. Best Worst Movie: Michael Paul Stephenson was the child star of the legendarily awful Troll 2, and as an adult, he finds himself grappling with the cult following that's unexpectedly sprung up out of the humiliation of himself and his co-stars. The whole documentary is a testament to the power of movies to bring people together -- yes, even the shitty movies.
3. Scott Pilgrim vs. The World: Edgar Wright keeps his stellar streak alive with this densely clever adaptation of Bryan Lee O'Malley's generation-capturing graphic novels, a Speed Racer for slacker romance. Hell, he even manages to help restore Michael Cera's street cred a bit, as Cera plays the aloof Torontoan suddenly tasked with defeating the last seven lovers belonging to his latest crush (Mary Elizabeth Winstead) with just the right mix of selfishness, naivete and - eventually - determination.
4. Con Artist: While Banksy's doc-prank, Exit Through the Gift Shop, drew an understandable amount of buzz at this year's Florida Film Festival and on the indie circuit, I found myself a bit more engaged and enraged by Michael Sladek's documentary all about Mark Kostabi, an art-world superstar-turned-pariah whose very personality depends on how much attention he's getting (Kostabi even tries to direct Sladek's camera for him at times) and whose work - no matter how little of it he's actually made - speaks volumes about what our society considers worthy of the cultural spotlight.
5. Shutter Island / Inception: Between playing a man haunted by his dead wife and deceased kids and a man haunted by his dead wife and distant kids, it's become clear that Leonardo DiCaprio may have some issues. Neither Martin Scorsese's mystery nor Christopher Nolan's brainbuster spare him any emotional trauma, and they're each handsome, ambitious films that are nearly as bogged down by the weighty issues of guilt as one might think. I'm not sure that I'd consider either an outright classic - Island's ultimately a little too far-fetched, while Inception's a bit slow to start - but they're both masterfully made, with ideas to spare and ensembles to envy. We could use more of these.
Runners-up: Jean-Pierre Jeunet's Micmacs offered up an ideal dose of whimsy; Joan Rivers: A Piece of Work gave us a sobering glimpse into the sad side of comedy; Waking Sleeping Beauty was a fascinating chronicle of the golden years of Disney animation; The Kids Are All Right is a tender look at a modern family; and The Ghost Writer still has the best last shot of the year (suck it, Nolan).
Worst of the year: It's a tie between the spastic trifecta that was Furry Vengeance, Grown Ups and Standing Ovation, although the staggeringly oblivious likes of Sex and the City 2 is nibbing at their collective heels in this regard.
Rest-of-year hopefuls: I'm with Justin in having high hopes for Easy A and The Social Network; early word on Let Me In has been solid across the board; the trailer for Sofia Coppola's Somewhere makes me anxious to see that and I'm so anxious to see Darren Aronofsky's Black Swan that I've made a point of avoiding the trailer (a considerable feat of restraint on my part).
And here are Justin's picks...
Let me qualify this entire thing, first and foremost, by admitting I haven't seen either Inception or The Kids Are All Right – two films I've heard great things about, both of which were foiled by aborted attempts at snagging a babysitter.
I should also say that while Joe Queenan's wholly unsupported, brain-dead argument that 2010 is the worst movie year ever is about as incisive and thought-out as M. Night Shyamalan's recent career choices, it really has been a bad year. I've hated WAY more movies this year than I've even halfway liked others. Call me crabby, but I've had this sinking feeling that good, risky indie films are out there ... we just haven't seen them. Considering we only have one art house here – one that's had to play it safe in these Tough Economic Times, exposure is the sole factor in an Orlando resident's enjoyment at the movies in a given year. It ain't happening right now.
That said, here's what I've really liked:
1. Toy Story 3: For its first two acts, it was an overstuffed retread that, while enjoyable, didn't exactly break new ground the way Pixar has become known for doing. Then the third act hit and a nation of grownups weeped like babies, myself included. Watching little Andy come to terms with his maturity – and the toys themselves gracefully accept their fates – sitting next to my too-quickly-growing son was a beautiful, poignant and kinda devastating experience.
2. Scott Pilgrim vs. the World / Kick-Ass: On two sides of the same coin, these characters leaped from the graphic-novel page and into my heart. Pilgrim boasted Edgar Wright's visual mayhem and a keen sense of modern teenhood. Kick-Ass introduced me to my new crush, writer Jane Goldman, the super-hot and witty geek-dream who had Jonathan Ross' kids and named one of them after fucking Jack Kirby.
3. Restrepo / Waking Sleeping Beauty: Restrepo is Sebastian Junger's heart of darkness, in which he spent a year embedded with a U.S. company in one of the deadliest places on Earth. The result was both heart-pounding and heartbreaking. Waking Sleeping Beauty is the inside story of the Disney era in which the young guns (Tim Burton, John Lasseter) bumped heads with the old guard and nearly dragged the animated division down with them. Watching them all rediscover the joy of classic Disney with a little help from a mermaid named Ariel and the music of Howard Ashman was an elevating feeling.
4. The Crazies / The Last Exorcism: Horror made something of a comeback this year thanks to the efforts of some smart, charismatic purists who paid homage to the masters without succumbing to their bad habits. Both of these films were grounded in a way that I always want from thrillers but never seem to find. I can't wait to re-watch both.
5. Hot Tub Time Machine / The A-Team: Between HTTM, Operation: Endgame and Children's Hospital, star Rob Corddry invented a new kind of asshole this year, one who felt completely real and completely unbelievable. He's perfected his version of the Masshole and unveiled it with flair in a way that recalls Bill Murray's early-'80s coming-out party. And believe it or not, The A-Team, for all its way-way-over-the-top cock swagger, was the most fun I've had at the theater this year.
Runners-up: Dear John probably hit its specific target better than anyone else; Daybreakers and The Joneses packed some really fresh ideas and Bad Lieutenant: Port of Call – New Orleans was, well, I don't know but it was great.
Worst of the year: Greenberg was so vile and irredeemable that I actually judge people who could tolerate it, and will forever. Also, Leap Year and When In Rome sullied a genre I hold very dear: the rom-com.
Rest-of-year hopefuls: Ed Zwick's Love and Other Drugs could be his Jerry Maguire; The Social Network has been called a modern-day Gatsby; Clint Eastwood's Hereafter has a really good script in its favor; Easy A should be Emma Stone's showcase and The Fighter teams David O. Russell with Christian Bale, which means somebody's going to be murdered on that set.