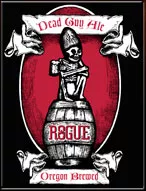 There's nifty feature on the TheBrewCrew.com website called "The Beer Tracker," and here's how it works.
Go to the pull-down menu on the site and select, say, "Rogue Ales." Then wait for a couple of seconds while the second pull-down menu loads up with all the available Rogue products, like Dead Man's Ale, either in bottles or on draft.
Click for the search and soon a Google map with all of the locations (in Orange, Seminole, Osceola, Lake, Polk and Brevard counties) that sell or pour that brand pop up. There are cute little icons for grocery stores, convenience stores, restaurants, hotels, pubs and clubs.
You can also see the search results as a list, which can be sorted by distance or name. And that's just one of the features on the site operated by Schenck Co. distributors; there's also a calendar of beer-related events, which is also nifty now that it's the season of Oktoberfest celebrations.