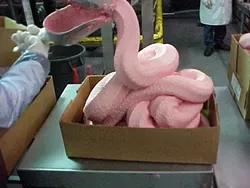 If I may paraphrase the Clash, "It ain't cotton candy; it's meat."
This picture has gone viral (the substance, perhaps literally) in the last week, so I won't belabor the definition; go here, here or here to read about mechanically separated chicken. In a nutshell — or a BK clamshell — it's a slurry of meat, bone, eyeballs and feet forced through an industrial press, then washed with ammonia to deal with the inevitable cross-contamination. That goo becomes "deli slices" (which no self-respecting deli would serve), along with chicken nuggets, fingers, tenders and other not-naturally-occurring chicken shapes.
Michael Kindt, who published the above photo on his Tumblr, Early Onset of Night, is taking a lot of heat from the National Chicken Council, and original post has gotten almost 20,000 comments, mostly from internet trolls, but of all the subsequent media outlets that picked up on it, I think his take is the most cogent of the bunch:
But, hey, at least it tastes good, right?
High five, America!
*smack*
Kindt also thinks "Ignorance Is Bliss" should be printed on American money in place of "In God We Trust," and I couldn't agree more.