No, scratch that — he took it like a motherf*cking champ.
Eddie Huang grew up in the restaurant biz — his parents moved to the States from Taiwan, and then to Orlando in the 90s, where they owned Cattleman's Steakhouse (and more recently, the Black Olive). He now owns/operates Baohaus and Xiao Ye in New York's Lower East Side, while remaining true to his hip-hop-loving, Engrish-slinging, bong-ripping self by serving stoner-friendly dishes like Cheetos-crusted fried chicken, "dericious egg," Kim Jong's Ill Noodles and Johnnie Walker bubble tea. (Surely someone besides me has made this comparison already, but he's kinda like a baby David Chang.)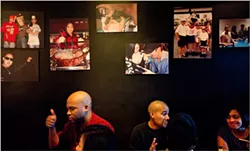 Sam Sifton's review of Huang's late-night lounge, Xiao Ye, is a scorcher, but somehow affectionate at the same time. It's not a takedown; it's a "Shape up, young man," with lines like: "If Mr. Huang spent even a third of the time cooking that he does writing funny blog posts and wry Twitter updates, posting hip-hop videos and responding to Internet friends, rivals, critics and customers, Xiao Ye might be one ofthe more interesting restaurants to open in New York City in the last few months. As it stands, though, Xiao Ye is an artful misfire: the sort of place that, as Mr. Huang sadly appears to desire it to be, is really only best when the customers are a little drunk, a little high, maybe both and in any event extremely hungry."
Which sentiment was echoed by Huang's mother, in a note she wrote him after the review came out. (She basically told him the chef equivalent of "Don't quit your day job" — "Keep your bar license current." Like, your food is weak, but you can always pour drinks. Ouch, ma.) What makes any of this noteworthy is that Huang, rather than fire back, dis Sifton, or curl up in a little ball the way most chefs would after a bad review in the Paper of Record — Huang wrote a long blog post agreeing with Sifton and published his mother's letter in its entirety.
Dang.
That's a guy who has taken to heart the old saw that success is 99 percent failure. His blog and his menus may seem like he's always clowning, but what I see is a guy who has some deep thoughts about ethnicity, family and getting young people out of the fast-food joints and into creative cooking.
Read his hilarious blog, Fresh off the Boat, and give his kitchens a try if you're in New York. Guy's practically a local. And Eddie: Like another kinda-local, Walt Disney, said, "You may not realise it when it happens, but a kick in the teeth may be the best thing in the world for you."