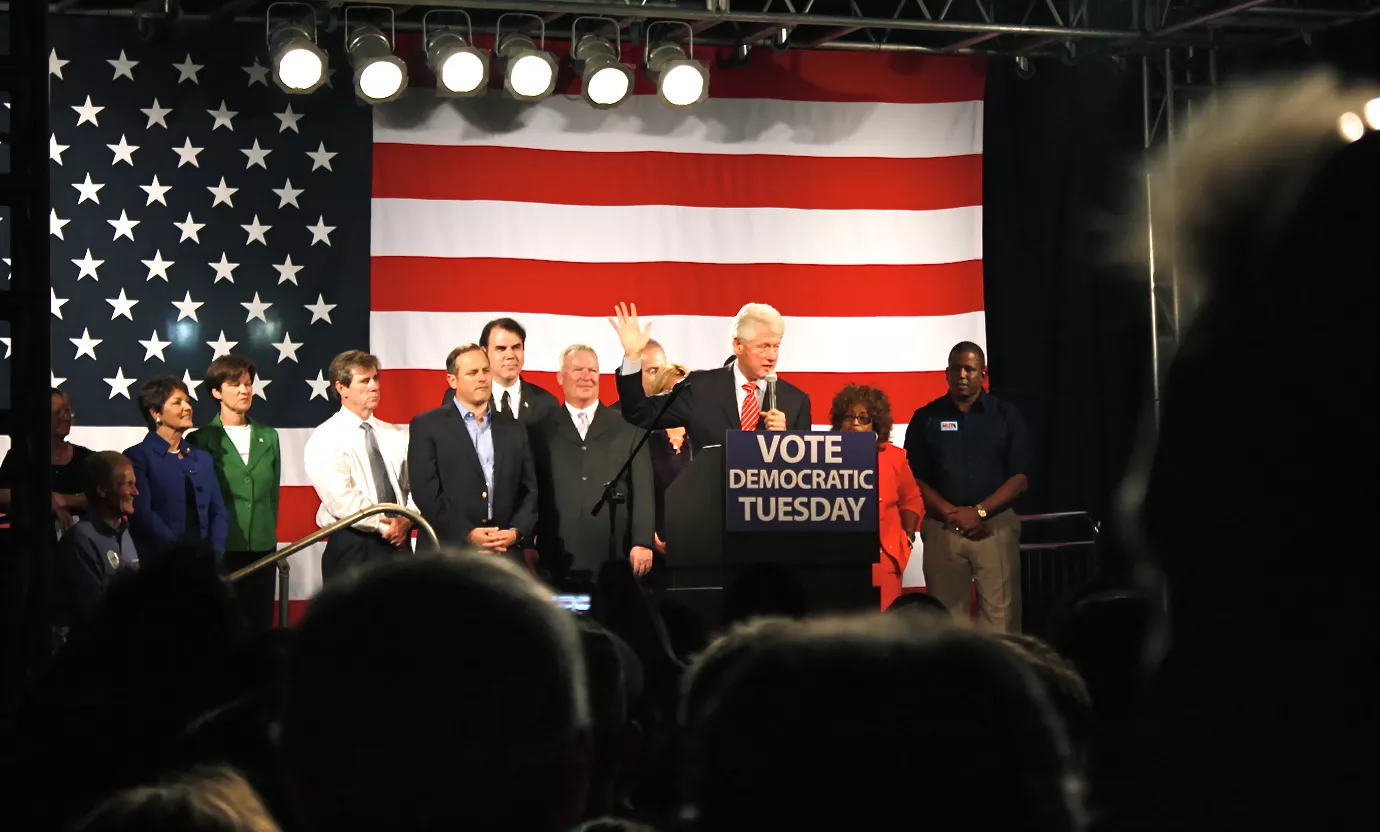 It was only seconds after I entered Lake Eola Park last night for the Democratic Party's final rally in Orlando that I was talking politics. Unsurprisingly, it was with one of the park's many homeless residents, who accosted me while pulling up his pants by the lake shore.
"Excuse me, sir!" he called out.
"Yeah?"
"You going to that rally?"
"Yeah."
"If you talk to Bill Clinton, could you tell him to suck my dick?"
"Sure."
Onward.
This was my first political rally, so I was unaware that the arrangement was like any music show at a downtown venue. Tickets were required, and "doors" opened at least half an hour later than scheduled. I whittled away the extra time chatting with people in the entrance line that stretched back half a block.
Ken Baer, one of the many Grayson campaign employees in attendance, ruminated on the governor's race, stating that the choice between Alex Sink and Rick Scott was easy. "You can pick someone that's sane and can do the job, or someone that's insane, and a crook." When I asked Baer why the obviously huge mismatch of sanity and morality still yielded a neck-and-neck race, he shrugged. "There's just a lot of dumb people out there."
I wondered what the purpose of the rally was – obviously, this was the choir being preached to, and it was too late for the Democrats to ask the choir to do much more than sing to their friends tomorrow. I wondered this aloud to Yolanda, a middle-aged African-American woman who came alone. "The media just gives snippets, and it's good for once to see the words coming out of their mouth, rather than seeing it interpreted by somebody else," she replied.
"And," she added, as many others would: "I'm here to see Bill Clinton."
Indeed, Bill's presence was infused into every molecule of the night. While the line alongside Robinson Street grew larger, a vegan activist passed out pamphlets, advising the crowd to Eat Like Bill. (Supposedly, daughter Chelsea recommended the diet to help Dad drop some pounds before her wedding.) Twenty minutes past the start time, still standing a half-block back in line, a square-jawed man named Morgan remarked: "That's what Bill's here for – to keep us waiting."
And more waiting was in order, as the ex-president would speak last. Show finally underway, the order of Democratic candidates taking the stage followed the rank of the seat they were gunning for, so although Congressman Alan Grayson is unquestionably a more exciting and viable candidate, never-to-be U.S. Sen. Kendrick Meek still garnered a speaking slot closer to the Almighty Bill.
Despite the recent he-said, he-said dropout drama, Meek's speech was still completely forgettable; as was Sink's, but that was expected. Grayson's pep talk was short and punchy but somewhat heavy on chanting. The most interesting non-Clinton stage appearance was by Commissioner of Agriculture candidate Scott Maddox, who reached deep for some guttural fire-and-brimstone preaching. Absent was any religious content, though; rather, the crowd was treated to some Larry the Cable Guy Southern charm: "[Rick Scott] is gonna wake up Wednesday morning figurin' he bought a $73 million butt-whoopin," Maddox barked to the crowd's approval.
A friend remarked to me after the speech: "He kind of sounded like a wrestler." Smiling, I pointed with my pen to "Hulk Hogan" scribbled on my notepad under Maddox's name.
Otherwise, the Democratic speeches were largely the expected rhetoric distilling the gray of life into the black-and-white of politics: Will you pick yesterday or tomorrow? Backward or forward? The super-rich or everybody else?
Who knew the decision was so easy?
But the loyalty of the crowd was never in question. With a glance at the hive of cameras clustered into the media cage at the rear of the crowd, it was obvious who the true audience was. And to make sure the cameras could amply capture the diversity of the attendees (and their uniformity of signage), heavy-duty spotlights were trained outward on the crowd, which prompted me to stand behind the tallest guy I could find.
For all the hype surrounding Bill Clinton, I was surprised to actually have room left to be impressed when he finally took the stage. After a night of being barraged with slogan after slogan, platitude after platitude, Bill's heavily statistical speech was refreshing. Clinton spoke of the 2009 stimulus, the bank bailout and student loans, giving the crowd some ammunition in case they actually heeded the pleas to become manic campaigners on Election Day. Accentuating the intellectual air of Clinton's speech was a pair of reading glasses perched at the end of his nose, although he had no prepared remarks to read.
But Clinton is, after all, a political animal who understands the nature of our media. So he was sure to remind the crowd before closing that it "was not an issue of right or left, but right and wrong."
Drained from thousand-watt light bulbs, hours of standing and dichotomous metaphor, I opted not to muscle through the paparazzi to ask Bill about his veganism or willingness to suck off the homeless guy. Sure, the self-esteem of the Democrats is about to take a big hit, but I don't know if they'll get that low.