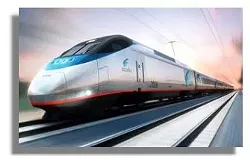 Everything's coming up track marks over the past 24 hours, and at least this time it doesn't involve a crumbling ex-boyfriend or a new Michael Jackson release (seriously, that's sitting right here on our desk staring at us). We caught steamy wind this morning that Congressman John Mica, R-Winter Park, had gone right ahead and followed up yesterday's big caboose of Sun Rail news – i.e., it's really happening (again)! – with some even juicier news about that high-speed rail project destined to form a fashionable belt around Florida's midsection. So, we decided to give Mica's press guy "Rusty" Roberts a call about it this morning, because we figured a Facebook sneeze of the political variety probably required some qualification.
"I heard something about that, too," said Roberts. "I'm not sure what's going on."
Interesting! Anyway, Roberts put us through to Justin Harclerode, a spokesman for the Committee on Transportation and Infrastructure up in D.C. (Mica was just selected to be chair of said committee), but he didn't answer his phone, so we went to lunch ... without the benefit of mass transit. BUT, when we came back, there was really big news in our electronic inbox! Seems that Mica is shifting $342 million in additional federal funding to the Orlando-Tampa rail line as a means of shutting up any criticisms that some of the operational costs for the project may have to come from state or local governments. Also, Gov. elect Rick Scott hates trains. Mica is instead calling on the private sector to "cover any gap" the additional millions might leave. Oh, forget it – here's the press release:
Mica Statement on USDOT Announcement Regarding Florida Passenger Rail Funding
Washington, DC – "Additional federal funding for the new Orlando to Tampa passenger rail link should ensure the project's chance for successful completion," said U.S. Rep. John L. Mica (FL-07) in response to a planned announcement today by the U.S. Department of Transportation.
Mica continued, "This strong commitment will help make certain that the state and local community governments and taxpayers are not left on the hook for completing construction or subsidizing future operational costs.  It is now essential that the private sector step up to the plate and submit proposals that cover any gap in funding the balance of the estimated $2.7 billion megaproject.
"While passenger levels on the new rail system from the Orlando Airport to the tourist area and Disney World are expected to produce substantial revenue, and while today's announcement should ensure construction of the entire system, passenger service to Tampa may need to be added incrementally as the Tampa Bay area develops a future fixed transit regional distribution system."
Funds from U.S. DOT are being reallocated from several other states where state officials have backed away from passenger rail projects that had been originally selected to receive federal assistance from some $8 billion designated.
The award for the Florida project is the third from U.S. DOT and is expected to be announced as $342.3 million.  The first award for $1.2 billion was announced in January 2010, and the second of $800 million was announced in October 2010.
Mica, the newly selected Chairman of the Transportation and Infrastructure Committee for the 112th Congress, commended Secretary LaHood for reallocating funds to projects with the highest potential for success.
# # #
The news follows even further speculation here that General Electric and the Chinese are already battling it out to manufacture the rail cars that will comprise the new (sorta) bullet trains in Florida and California. Which, of course, brings us to this:
AWESOME.