A few books that didn't make it into
my gift guide
: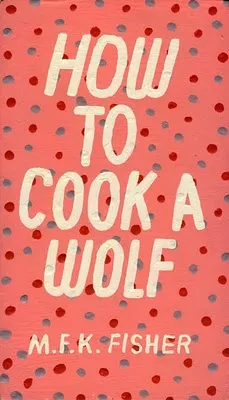 How to Cook a Wolf, M.F.K. Fisher: It may seem old-fashioned — and it is, with its WWII focus on cooking around food rationing and keeping a Victory garden — but reading about techniques used before microwaves, food processors and bread makers were standard equipment can give you the foundation to understand the processes of cooking, not just a how-to for a particular dish. Also, Fisher is the most amusing and acerbic food writer ever.
In the Kitchen With a Good Appetite, Melissa Clark: Clark's column in the New York Times showcases her keen ability to create a well-considered recipe around a feeling or flavor memory (hallmark of a true chef). This book allows her to stretch out and get more personal; reading it might develop your own knack for recipe creation.
A Moveable Feast: Life-Changing Food Encounters Around the World, edited by Don George: "From mutton in Mongolia to tacos in Tijuana," this is a straightforward, mostly amusing anthology of memories of meals in other countries from the publishers of the Lonely Planet travel guides and website. (It will probably be found shelved with travel books, rather than in the food and cooking section.)
As Always, Julia: The Letters of Julia Child and Avis DeVoto, edited by Joan Reardon: For anyone who just. Can't. Get enough Julia, here's a collection of letters between the goddess of French food and her close friend, a cookbook editor who helped shepherd through Child's landmark cookbook.
How to Repair Food, Tanya Zeryck: For the accident-prone, an alphabetically arranged oh-crap-what-now manual of fixes for when the salt shaker empties into the soup pot, the cake looks more like a pudding, or the spaghetti sticks together. (Julia always said, "Never apologize," and espoused simply serving the mess as if nothing had gone wrong, but for any cook who doesn't have her self-confidence, this could come in handy.)