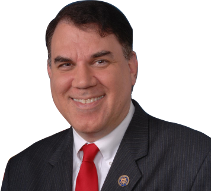 We bet you thought you'd read the last installment of  What's Up With Alan?™, our attempt to keep you up to date on the comings and goings of Orlando's favorite (outgoing) congressman, Alan Grayson!
Wrong!
Politics Daily reports that Grayson, the "master of the outrageous sound bite, and perhaps the most reviled member of the House," has appeared on a list of anti-war Democrats who could challenge Obama in the primaries in 2012. There's an Alan Grayson for President 2012 Facebook page, on which people are posting on the wall begging him to run ("Please run! American needs you!"). And, naturally, someone has started a "Draft Grayson for President" campaign, which positions Grayson as the kind of progressive people hoped Obama would be: "Grayson will fight for the things that Candidate Obama campaigned for. End the wars. Fair taxation. Return to a rule of law."
Grayson, naturally, has been coy about his interest (or lack thereof) in running. In a Dec. 9 interview on MSNBC, he blew the question off. But we know what kind of guy Grayson is, and all of the fawning has got to be going to his head. As Politics Daily points out, the guy's got an ego.
Despite his rather combustible personality and tendency to make inflammatory comments (not to mention the political ads about opponents), Grayson apparently has the name recognition, an unequivocal anti-war record and  lots of money with which to launch a campaign (he hates it when we say that about him, even if it is true).
We've been waiting for the Democratic party to come up with a progressive answer to the right's Tea Party movement. But when we said we were hoping they'd come up with a candidate that wasn't shy about embracing the L word, we meant "liberal," not "lunatic."