Live Music This Weekend [Pauses CD release, Sons of Tonatiuh, The Adolescents, more]
This week was pretty sleepy, but this weekend is anything but.
TONIGHT: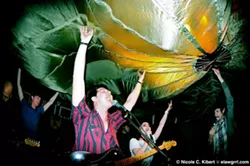 Love From Above 2011: Andy Matchett & the Minks
A weekend of great shows kicks off with a fantastic bill of local and semi-local talent at Will's Pub, including the alt-rock of Tallhassee's Only Thieves, the burly pop of Mother Night, the Superchunk-y goodness of the New Lows, and the joyous, life-affirming wonderment that is Andy Matchett & the Minks.
Little punk rock show at Uncle Lou's: Murder Media, Big Attack!, Heedless, MRSA, and the Snotty Kids.
Big punk rock show at the Social: Comeback Kid, Casey Jones, and the Attack. (Yes, H2O cancelled.)
[youtube 9EFhtygsHEY]
Mickey Avalon makes me weep for humanity. You may feel differently. He's at Firestone Live. Man, Surf Expo week is weird.
SATURDAY: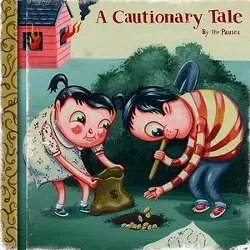 The Pauses celebrate the release of A Cautionary Tale with a big to-do at Back Booth. The band is justifiably excited about both the quality of the record (and what packaging!), and is going all out for the show tonight, with a fancy-pants stage setup and everything. Also stoke-worthy: Gordon Withers will be opening, who's maybe the only guy on the planet who you can talk about using the words "Jawbox" and "cello" together.
There is a massive metal show at Will's featuring the crusty, doomy sludge of Atlanta-based Sons of Tonatiuh (RIYL: Kylesa), as well as heaviness from Jacksonville's Hollow Leg, and our very own (and incredibly almighty) Junior Bruce.
There's also a great metal show at the Haven, with 5 Billion Dead and Dead Mens Dreams.
The Adolescents are at the Social. Man, Surf Expo weekend is cool.
SUNDAY:
Lemuria and Teenage Softies play Hoops.
We welcome readers to submit letters regarding articles and content in Orlando Weekly. Letters should be a minimum of 150 words, refer to content that has appeared on Orlando Weekly, and must include the writer's full name, address, and phone number for verification purposes. No attachments will be considered. Writers of letters selected for publication will be notified via email. Letters may be edited and shortened for space.
Email us at feedback@orlandoweekly.com.
Orlando Weekly works for you, and your support is essential.

Our small but mighty local team works tirelessly to bring you high-quality, uncensored news and cultural coverage of Central Florida.

Unlike many newspapers, ours is free – and we'd like to keep it that way, because we believe, now more than ever, everyone deserves access to accurate, independent coverage of their community.

Whether it's a one-time acknowledgement of this article or an ongoing pledge, your support helps keep Orlando's true free press free.