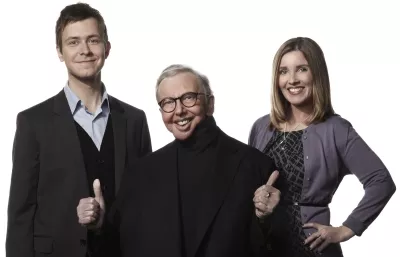 Over the upcoming weekend, most of the top 50 markets will be greeted by two new faces on their televisions as Christy Lemire of The Associated Press and Ignatiy Vishnevetsky of Mubi.com take over on the balcony made famous by Siskel and Ebert.
Not Orlando, though. Not anywhere in Florida, for that matter, despite having two top 20 television markets in Orlando (19th) and Miami (16th), nor Jacksonville (49th).
According to this market coverage report posted by Ebert on Thursday night, Orlando joins Seattle (13th), Portland (22nd), San Diego (28th), and Birmingham (40th) as the only top 50 markets in the country without a time slot for the anticipated show.
What can you do about this? Call and/or e-mail PBS's Orlando station, WFME, that's what.
You can get a hold of them here:
http://www.wmfe.org/site/PageServer?pagename=contact_wmfe
Correction: 10:57am
We spoke too soon about all of Florida not getting the show (actually, I just failed in the simple task of this thing called "reading"). The Daily City points out on Twitter that Tampa, West Palm, Tallahassee and Gainesville are actually getting the show this weekend. Road trip!
Update 1/24:
This week's episode is now up and streaming on the official website, http://www.ebertpresents.com/. I would highly suggest Kim Morgan's video essay on Carol Reed's The Third Man. She is a wonderful writer, and if you're anything like me, you'll get the zithery theme song stuck in your head for days to come.