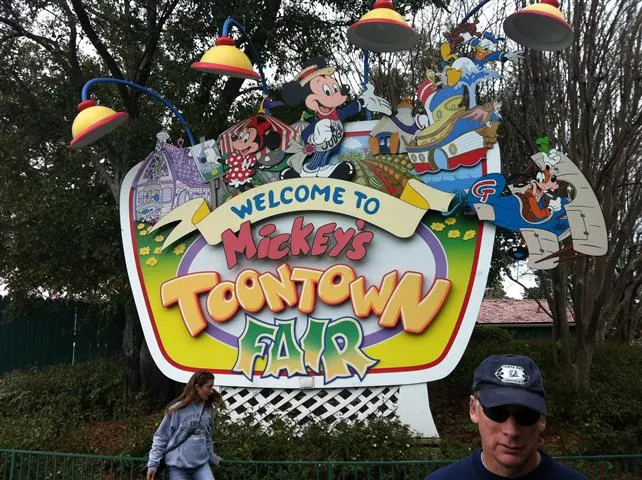 "Now it's time to say goodbye" to Mickey's Toontown Fair at WDW
 February 11th, 2011, will go down in history as the day the housing market collapse hit the Magic Kingdom. After over a year of negotiating with creditors, Orlando's most famous rodent resident reached the end of his rope yesterday, and had to face the same sad fate as many underwater mortgage holders: Mickey Mouse has been foreclosed on and evicted from his country home. Luckily for the corporate icon, he held onto his primary residence in Anaheim, but his long-term companion Minnie isn't so lucky; the hammer came down on her homestead as well, and word is she's been scoping out cardboard boxes under I-4. And don't even ask about poor Donald Duck, whose houseboat (which was already a leaking mess) has been repossessed.
Ok, so the truth is slightly less entertaining, but a momentous moment occurred this week that was barely noticed by any but the hardest-core of Disney fans. For the first time in the history of Walt Disney World, an entire "land" in one of the resort's theme-parks has been shuttered and slated for demolition. The land in question was Mickey's Toontown Fair, which had a fairly inglorious history as the smallest section of WDW's signature Magic Kingdom park, and as the only "land" not directly connected to the park's central hub. Instead, the themed district was carved from an unused plot of land between Fantasyland and Tomorrowland back in 1988, when it debuted as Mickey's Birthdayland. This "temporary" expansion, which was hastily designed and built in only 90 days, was only intended celebrate 60th anniversary of the mouse mascot's creation. But the area proved so popular with guests that the collection of cheap-but-colorful tent structures were kept, renamed first as Mickey's Starland in 1990, and renovated into Mickey's Toontown Fair in 1996.
As of this morning, the gates to Toontown have closed for good, and the walk-through exhibits of Mickey and Minnie's homes (actually elaborately-decorated queue lines for meet & greets with the rubber-head rodents) are slated for demolition, along with the "Donald's Boat" water playground and other themed features. They're all being torn down to make way for the much-hyped expansion of Fantasyland that is scheduled to premiere in 2012 or 2013. While the headliner feature of the expansion is a Little Mermaid dark-ride being built on the former site of 20,000 Leagues Under the Sea, the Toontown area will become Storybook Circus, home to a relocated Dumbo ride. The Goofy's Barnstormer kiddie coaster currently in the area will remain, rethemed as the Great Goofini, and additional circus-themed play elements will be added.
In the meantime, don't cry for the characters who have been evicted under eminent domain. Mickey and Minnie will soon be relocating to a new meet & greet location being constructed in the Opera House on Main Street USA. The Disney Princesses who were greeting guests in the Toontown Hall of Fame tent have temporarily relocated to Adventureland, and will eventually get a new home where Snow White's Scary Adventures currently sits; that classic dark ride is slated for demolition, to be replaced by a similarly-themed Seven Dwarves roller-coaster. Finally, Tinkerbell and her Fairy friends, who were always the most popular characters to meet in Toontown, can now be found at Epcot.
If you're feeling nostalgic for Mickey's former home – or never got to see it before it disappeared – here are some videos tours of Mickey's House, Donald's Boat, and Goofy's Barnstormer on their final day of operation.