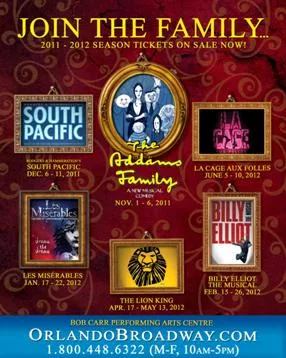 The newly-announced shows of Fairwinds Broadway Across America 2011-2012 season.
The singing witches of Wicked return to Orlando's Bob Carr next Wednesday (Feb 23), marking the midway point of Fairwinds 2010/2011 Broadway Across America season with an extended month-long run of Stephen Schwartz's super-successful Wizard of Oz spin-off. We've still got Shrek The Musical in May and HAIR in June to look forward to, but if the current season (which kicked off with Young Frankenstein) has left you feeling a bit green, fear not – the 2011/2012 season is right around the corner.
Florida Theatrical Association, local presenters of the Broadway series, announced yesterday the lineup for the next season. The next six-pack of plays are being sold with a "family affair" spin, which seems appropriate for this mix of gracefully-aging classics and adolescent upstarts. The series, which will kick off this November, includes something for every member of your extended clan:
For your creepy bald uncle who sits in the basement practicing taxidermy, The Addams Family arrives direct from its critically-lambasted Broadway debut. Even the efforts of Jersey Boys writers Marshall Brickman & Rick Elice couldn't save this musical adaptation of Charles Aadams' macabre cartoons from scathing reviews. And don't expect to see Broadway stars Nathan Lane and Bebe Neuwirth as Gomez and Mortician when the show hits Orlando. (Nov 1-6, 2011)

For your sweet grandma who still remembers seeing Mary Martin in the original 1949 production, Rogers & Hammerstein's South Pacific is back. This new tour is based on the acclaimed 2008 Lincoln Center revival, which brought novelist James A. Michener's tale of naive WWII nurse Nellie Forbush to a new generation. Even if they've been around for over half a century, songs like "Some Enchanted Evening" and "I'm Gonna Wash That Man Right Outta My Hair" never grow old. (Dec 6-11, 2011)

For your radical left-wing sister with a degree in French literature, Les Miserables returns with a 25th Anniversary production of Boublil & Schönberg's epic pop-opera. The original production team of Cameron Mackintosh, Trevor Nunn and John Caird came back to the word of saintly thief Jean Valjean to freshen up the staging of this production, but don't worry: Victor Hugo's crapped-upon characters still all die in the end. (Jan 17-22, 2012)

For your coal-mining cousin with a secret yen to tap-dance, the blockbuster Billy Elliot The Musical will finally reach Orlando, over a year after appearing in Tampa. Lee Hall's stage adaptation of his inspirational 2000 film features a score by Elton John. The tour is headlined by Tony-winner Faith Prince, who last stormed the Bob Carr boards as Mrs. Lovett in Orlando Philharmonic and Mad Cow's 2009 concert staging of Sweeny Todd. (Feb 15-28, 2012)

For your Disney-obsessed niece or nephew, The Lion King is back for a month-long engagement in all its Julie Taymor/Michael Curry puppet-tastic glory. The best thing about the return of this Elton John-scored kiddie Hamlet is that they'll need to bulldoze a much-needed aisle through the Bob Carr's unwieldy orchestra section. (April 17- May 13, 2012)

Finally, for your fabulous brother, the revival of La Cage aux Folles flies in for a taste of feather-boa-draped "Gay Paree." The current Broadway production of this Harvey Fierstein/Jerry Herman tuner starred Kelsey Grammer, and featured Orlando's own Douglas McGeoch in a walk-on role; now it's your turn to belt out "I Am What I Am" in your best defiant drag queen voice. (June 5-10, 2012)
If all this family fun threatens to drain your fundage, fear not. While there's no such thing as a free lunch in the land of Oz, cheap tickets are available to the Bob Carr's latest visitors. Just show up at the box office 2 ½ hours before each performance of Wicked, and you can put your name in the lottery for a pair of $25 orchestra seats. Remember to bring cash though, because they won't accept credit cards or slippers, even if they are silver or ruby.