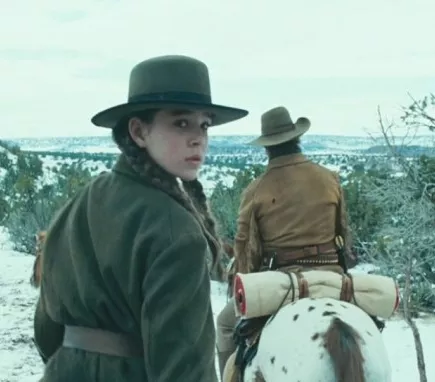 The next category in our bloody battle to the filmic death is Best Cinematography [Editor's note: That would be the 1st Annual OW's 5 Days of Oscar Championships Tournament Battle Picks, or OW FOCTOBAP. The editor is very stuck on that name. Enjoy.] It's the most exciting of all of the technical categories because it is what makes a film a film: the capture of performance and light into moving pictures.
When color film was introduced, this category was split into two categories, one for color films and one for black and white films. No such split in category was made as Hollywood inexorably moves into a digital industry, but the two formats are not yet on equal footing. And as a surprise, this year one of the five nominees was shot in 16mm.
The Nominees:
"Black Swan" Matthew Libatique
[youtube iW0bTcVa7vs]
"Inception" Wally Pfister
[youtube 3A_xzurN-Lc]
"The King's Speech" Danny Cohen
[youtube h9qCLPkRYGk]
"The Social Network" Jeff Cronenweth
[youtube 8_Higk7j6ck]
"True Grit" Roger Deakins
[youtube 31NsT7wyi_Y]
Analysis:
Black Swan: A deep psychological thriller, Black Swan is ultimately helped a great deal by Libatique and Aronofsky's decision to shoot in an ultra grainy super 16mm format. The strong directional lighting and stark shadows emphasise the dichotomy of Nina's struggle, visually reinforcing the idea of both the black and white swan fighting to win Nina's soul.
Inception: I've never been able to place it, but there is something about Nolan's films that always leave me cold. The cinematography is so hard to judge in this film because so much of it is so heavily reliant on CGI, and that just feels less impressive to me in this sense. The camera was a slave to the effects in Inception, I felt, instead of the characters.
The King's Speech: Cohen's approach to the material, to capture warm colors inside of asymmetrical frames, works wonders for the film. It does its job very well, backing up the idea of the isolated, out of balance life that Prince Albert leads, one of the film tries so hard to achieve, and the moist London air almost leaves a dew on your forehead.
The Social Network: Understated and simple, Cronenweth and Fincher milk the frame for everything its worth in this film that is essentially two hours of talking and typing. It's made exciting in large part because the cinematography is so exciting, especially during the time spent at Harvard.
True Grit: Westerns are always the prettiest films, even when they are grimey. The spare landscape of the horse and cattle trails of the old west are just natural beauty and a cameraman should feel much shame indeed if they could not capture it right. Deakins has to feel no shame, because his work was wonderful here, as usual.
The Winner:
Black Swan
Director of Photography: Matthew Libatique
Next up, Best Costume Design.