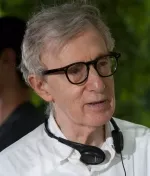 Javier Bardem and Rebecca Hall in Vicky Cristina Barcelona
So, here is a bit of foreign film news that I'm not excited about at all: Woody Allen is once again taking his production back to Europe, this time to Rome.
According to Deadline's Mike Flemming, Heywood has signed on to do his next, currently untitled, film in the Italian capital. No cast or synopsis have been reported as of yet.
But it's this part of Flemming's report that ruffles me more than anything:
While some Gotham-ites might react bitterly to seeing Allen so far from home, I think his films got dramatically better when he left New York and that his writing and shooting have been revived considerably by the change in locale.
I really don't believe there is much of a correlation between his work now and a few years ago when he was still working in New York. There are a few other, better reasons why this is so.
There is also the fact that it isn't necessarily true, but I'll get to that in a second.
Every actor in the world wants to work with Woody Allen, and this is actually a big problem because, honestly, most actors are awful. But when you can get Javier Bardem, Penélope Cruz, and Rebecca Hall it helps, even if you also have Scarlett Johansson. Josh Brolin or Jason Biggs, on the other hand, can't act in the big sense of the word, they can only do Josh Brolin and Jason Biggs. They can have success with that (as in No Country For Old Men, of course -- though which actor carried that film? Hmm), but range is something else, something very few actors legitimately have.
Casting is everything. Really, it is.
Allen's dialogue style is very specific and not everyone has the chops to handle it. This is especially true of the male leads. They are designed for Woody Allen, and Josh Brolin is no Woody Allen.
One of the reasons his films in Europe have been better of late is because, according to Allen during the press rounds for Match Point, he is insecure about his dialogue being delivered by Europeans and allows them the freedom to rephrase his dialogue so it sounds authentic.
These dovetailing factors are the real keys for Allen's success of late, I believe. Perhaps if Jason Biggs was allowed to rephrase his dialogue in Anything Else it wouldn't have been quite so bad?
No probably not. Nothing could have saved that one.
And that's another point of note: Allen is a director like any other. He goes up and he goes down. He works at a furious pace, thinking about continually working in order to think about death less, not an austere pace, worrying about his legacy (which is already cemented anyway). Kurosawa and Bergman had their waxing and waning phases too. They just seem less important because we are not in the midst of it, waiting for the next "good" film.
If you look at his last few New York films before he left – Melinda and Melinda, Anything Else, Hollywood Ending, Curse of the Jade Scorpion, Small Time Crooks and Sweet and Lowdown – there are hits and misses. Sweet and Lowdown is one of his best films, Curse of the Jade Scorpion and Anything Else are two of his worst films, and the rest are somewhere in the middle.
I don't believe Whatever Works is an accurate reflection of what his work in New York would look like if he came back. There were too many mitigating circumstances surrounding that, not to mention the fact that it came in the middle of a five film period where he only had one "good" film in Vicky Cristina Barcelona.
Four of the five were shot in Europe (Scoop, Cassandra's Dream, Vicky, You Will Meet a Tall Dark Stranger), one was shot in New York (Whatever Works).
As you can see, this logic repeats itself in his European work as well. Match Point (very good), Scoop (awful), Cassandra's Dream (mediocre), Vicky Cristina Barcelona (very good), You Will Meet a Tall Dark Stranger (mediocre at best).
If fact, you can look at almost any block of Allen's work and see this pattern repeating over and over again (sometimes there is no awful film, but there are always mediocre films). Take 1980-1985, for instance: Stardust Memories (very good), A Midsummer Night's Sex Comedy (awful), Zelig (brilliant), Broadway Danny Rose (middle), The Purple Rose of Cairo (slightly above middle).
He just has swings and misses. It's really not a big deal. There are just so many people who, rightly or wrongly, want to see Allen fail that it becomes a big thing. It's charged by something bigger than the films themselves, but the films themselves are the only thing I care about personally.
So, no, Europe has very little to do with it. He'll have hits, he'll have misses. He'll have awful scenes in his great films, and great scenes in his awful films. But at least he isn't shooting in 3-D.
(Allen recently wrapped production on Midnight in Paris, starring Owen Wilson, Marion Cotillard, Rachel McAdams, Kathy Bates, Carla Bruni and Adrien Brody. It will premiere at Cannes in May.)