To paraphrase Tommy Chong, you have to respect Broadway. Because it'll kill ya.
Two years after being conked on the noggin by a descending piece of scenery at the Tony Awards, and one year after suffering a cerebral hemorrhage that purportedly nearly ended his life, Bret Michaels has gone and done what those of us in his corner always knew he had it within him to do: put two and two together!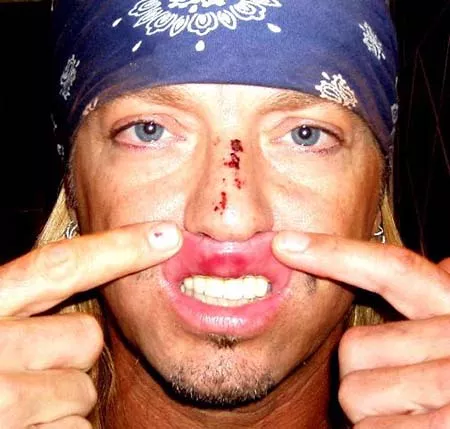 And you should see the "after" shot.
Yep, ever-alert Bret has finally recognized the possible connection between the two incidents – you know, the same connection the rest of the civilized world was tweeting about the second he was fitted for a denim hospital gown. In fact, not only has he acknowledged such a cause-and-effect scenario as feasible, but he's stating it as fact in a suit his people just filed against the producers of the Tonys.
And why, may you ask, has it taken Bret an entire year to seek restitution for such allegedly grievous bodily harm? Hey, give the guy a break – he has a head injury!
Actually, Michaels' people are floating the idea that he didn't want the situation to come to this, and that he pursued other avenues before being forced to file suit. What other avenues are there by which to obtain amends for a near-death experience? I dunno; maybe he asked for comps to Jersey Boys and they shot him down.
It's unknown at this time if the suit presents any concrete medical evidence that Bret's head trouble was a direct result of the Tony mishap. But even if it doesn't, I'm sure one good appearance by C.C. DeVille as an eyewitness is all the ironclad proof any court will need.
Now, some of you regular readers of the OW blogs may recall that Michaels' hospitalization last April nearly wreaked havoc with a play I had written, in which I had carelessly made him a pivotal character. So I just want to assure you that any flippancy you might detect in this post is just my authorial SOP, and that I of course harbor no ill will toward the guy. In fact, I hope he gets every penny that's coming to him, the inconsiderate sonofabitch bastard. Because maybe then I can piggyback on his suit as a co-complainant.
In the interim, take heart, Bret: Spider-Man is hiring.