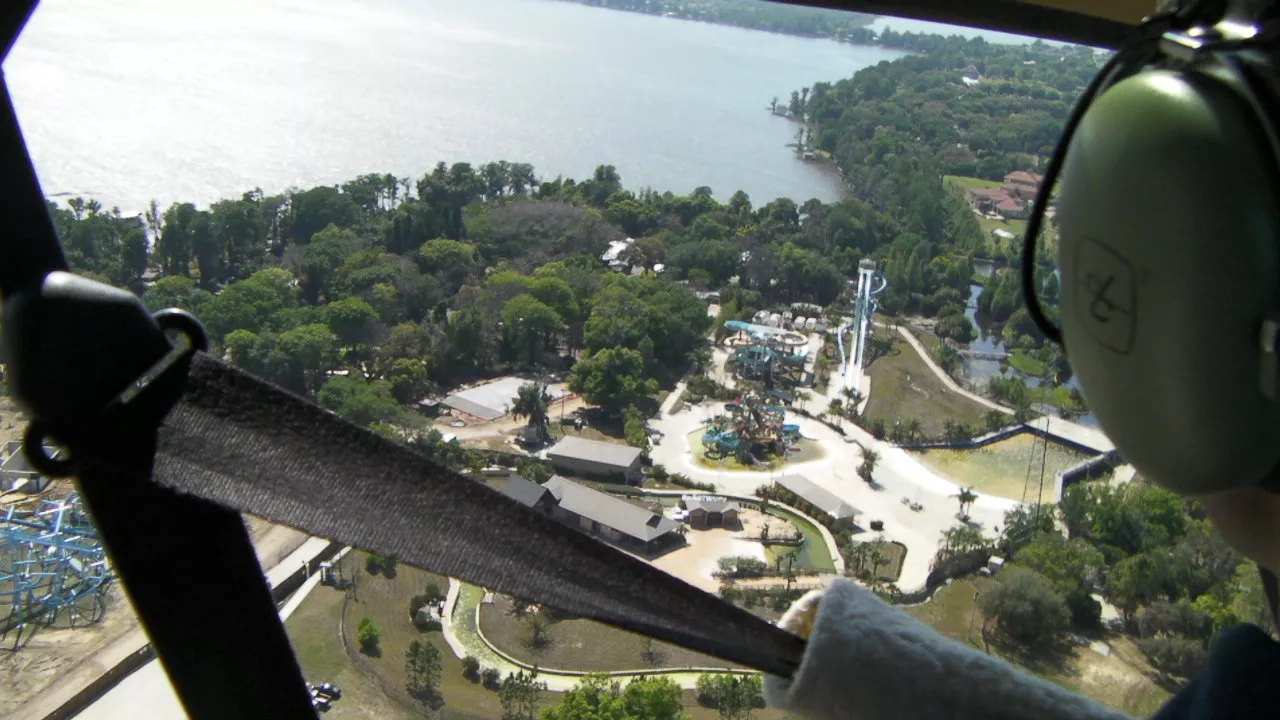 Seth Kubersky on a helicopter tour of Legoland FL
 I've spent enough time standing on tall ladders and dangling from theater catwalks to know I'm not scared of heights; I'm just terrified of the short stop at the end of a long fall. Now, thanks to the fine PR folks at Legoland, I can testify that a riding in a doorless VW Beetle-sized helicopter is a great way to induce any latent acrophobia you've got lying around.
Join along for the fun in the following video, where I lean precariously out of a tin can hovering hundreds of feet in the air over the former Cypress Gardens theme park, just to capture images of the under-construction Legoland Florida attraction for your amusement. Then stick around for a brief Q&A with Adrian Jones, the new park's General Manager, as he answers a few questions about the project.
Legoland flyover and Q&A with GM Adrian Jones
If you don't have the patience to watch, here's the Duplo (ie simple) version:
YES, the park is on track to open in October.

NO, they haven't announced exactly when in October the official opening will be.

YES, they actually sold some of the $2,500 lifetime "Ambassador Pass"

NO, they don't plan to extend the $99 deal on 18-month Annual Passes when it expires at the end of April.

YES, the Lost Kingdom Adventure dark ride is being built by Sally, who made the kick-ass attraction by the same name in California.

NO, there won't be a Star Wars display in Miniland like they have in California.

YES, the old Island in the Sky observation ride has been restored for guests to enjoy.

NO, the new Pirate-themed waterski stunt show won't have a human pyramid like the old ones.

YES, there will be low-cost transportation from the Premium Factory Outlets on Vineland to the new park.

NO, the popular Lego store in Downtown Disney won't closing (it's owned by a different corporate parent).

YES, the recently-announced plan from Merlin (owners of Legoland) for a giant Ferris wheel at the former Mercado on I-Drive will also become the hub for transporation to Legoland.

NO, the old Cypress Gardens water park will not reopen this year, even though the slides are still standing.