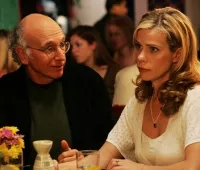 There are few things that bring joy to this misanthrope's heart like the start of a new season of HBO's Curb Your Enthusiasm.
HBO today released the first behind the scenes teaser (via Deadline) from the upcoming season, which features cameos from Michael J. Fox, Bill Buckner, Michael McKean, Ricky Gervais and Rosie O'Donnell (who the he'll is Rosie O'Donnell?). And thankfully Leon is back too.
After breaking up and reconciling over the course of season 6 and 7, which saw the big Seinfeld reunion show, Larry David and UCF grad Cheryl Hines are back together and have taken their craziness to the streets of New York City.
The new season starts Sunday, July 10th and runs through Sunday, September 11th.
[youtube uXvqZB2O028]