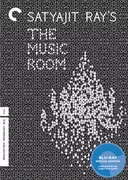 Criterion announced their titles for July today, and there are some exciting titles in it. There is a remaster of Jean Cocteau's Beauty and the Beast (#6), as well as three new collection titles: Jean-Pierre Melville's Leon Morin, Priest (#572), featuring Jean-Pail Belmondo; Satyajit Ray's The Music Room (#573), which is the first Ray film in the collection; and Todd Solondz's Life During Wartime (#574), the demented follow up to the even more demented Happiness that features an entirely new cast (including the criminally underused Gabby Hoffmann as Billy Maplewood's college girlfriend).
Edit: they added two more remaster titles while I was writing this: Mike Leigh's Naked (#307), and Akira Kurosawa's High & Low (#24), which instantly becomes the title of the month for me, as it's probably the greatest police procedural ever made and still holds up as such 50 years later.
Still no Brighter Summer Day, though I may be the only one left who even still holds out hope for it.
And finally, for Charlie Chaplin fans, Criterion also has a whopping 50% off sale on Modern Times to coincide with his birthday, which is tomorrow. The sale runs through 4/17 using the code MODERN.