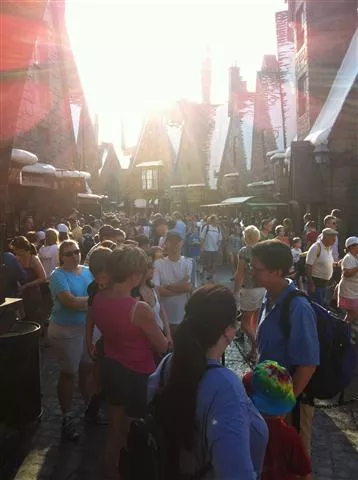 Huge crowds fill Universal Orlando's Harry Potter attraction before 9am.
You probably remember that last summer's debut of The Wizarding World of Harry Potter at Universal Orlando was one of the most-attended grand opening events Central Florida's theme parks have ever seen. And you may also remember hearing that last December saw a remarkable rebound in local tourism, bringing big attendance to Orlando's parks after several slack seasons.
So what could possibly be busier than those two events? The answer, apparently, is this year's currently-ongoing spring break. Right now, Orlando's attractions are neck-deep in the Easter Week peak attendance period, and the turnstiles are turning at a record pace. While none of the big parks publicly release official ticket-sales numbers, right now the trusted TouringPlans.com analysts peg population in all the local parks at a solid 10 out of 10 on the capacity scale every day until at least next Thursday.
Yesterday, to see for myself just how busy a peak-attendance day could get, I schlepped over to Islands of Adventure at 7:15am yesterday (Tues 4/19). Predicted crowds were so big that Universal extended park hours from their typical 9am-9pm to 8am-11pm, but that wasn't quite enough to quiet the throngs. Thanks to Universal's on-site resort hotel guests getting into the park as early as 7am, by the time I entered the park, the Harry Potter section was already packed nearly to capacity.
By 8:15am, only fifteen minutes after the official opening time, the wait for the signature Forbidden Journey ride was estimated at 120 minutes, and the line for Olivander's wand shop was only 30 minutes shorter. (This is a great time to remind readers of the 3 most important phrases in Potterville: "no bags," "castle only tour," and "single riders"; repeat these to the cast members you encounter at Forbidden Journey, and you'll be whisked through Hogwarts Castle in twenty minutes instead of two hours.) To help manage the masses, Universal has been tinkering with their system for controlling entry to the Potter area. As of this week, a standby queue (which started at 9am at 25 minutes and grew rapidly) has been run from Toon Lagoon to the Jurassic Park Discovery Center in a backstage area behind the Camp Jurassic Playground. If you don't want to wait in that line, Fastpass-style timed return tickets (typically valid one to four hours after received) are distributed from the Ripsaw gate near the Toon Lagoon bridge. Either way, that wait only gets you into the area; once inside, each ride and shop also requires it's only individual wait.
Crowds in the rest of the park weren't quite as intense, but at 10am the wait for the Ripsaw Falls log flume was already at 110 minutes. Crowds were so thick that even the Triceratops Trail exhibit, which has only operated a handful of days over the past decade, was temporarily dragged out of retirement. Arriving at the crack of dawn allowed me to experience most of the park's major attractions by 11:30am, but by then arriving guests were turning the Islands into grinding gridlock, so I fled for a early lunch at Emeril's – try the braised pork belly – and never looked back.
If you read all that and said to yourself that you'd "rather drop dead" than suffer through those crowds, Disney has a deal for you. As park of their secretive "NextGen" initiative, Walt Disney World is pouring big bucks into bolstering the pre-ride queue experience at many of their older attractions, in an effort to ease the pain of waiting in line. This month, their biggest such experiment yet debuted at the Magic Kingdom's Haunted Mansion. While the new interactive additions haven't been without their controversy among online Disney commentators, I give the current round of upgrades an optimistic thumbs-up.
You can read all about the changes in my "Live Active Cultures" column in the next issue of Orlando Weekly, on newstands tomorrow (4/21). But since seeing is believing, here is an exclusive video demonstrating one of my favorite new additions: a simple but clever voice-activated game that allows you to play "fill in the blank" with some ghostly poetry.