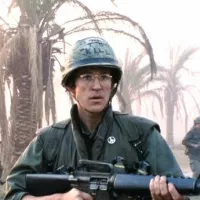 Over on the Kickstarter blog, there is a plea up to help finance the iPad app version of Mathew Modine's Full Metal Jacket Diary, which was released as an oversized art book limited to 20,000 copies.
It's one of those great oversized film books you flip through in Barnes and Noble while thinking, "God damn, I wish I could afford this."
And if it were a readily available app it would be affordable. So, I'm all for this, and I think you should be too. It's a great project.
The only problem I have with it is this: I don't own an iPad, and will probably never own one. I took the plunge on the iPhone only because my cell phone and iPod happened to break within a week of one another and it was cheaper than replacing both separately.
I know I'm not alone with being disinterested in the iPad, so I really think this needs a cross-platform solution, such as a Java version, or at least a CD-ROM version, if not a new, paperback edition of the actual book.
I've taken some grief over the years from Kubrick fans whenever I say that Full Metal Jacket -- not one of the more obvious films, like 2001, Dr. Strangelove or The Shining -- is my favorite of his films. Much like Mike McGregor, it's the first one I saw, though I was much, much younger -- probably still 8, possibly 9. I had to sneak out of my bedroom in the middle of the night and sit very close to the TV because the volume had to be so low -- and didn't understand most of it when I saw it at that age. I somehow understood it even less when I read the novel it's based on, The Short Timers by Gustav Hasford, when I was about 14. But as I grew up and began to understand the war itself, it film became even greater in my mind. So, it's somewhat odd to attach sentimental feelings to a Kubrick film, especially this one, but there it is. I'd love to flip through this book again, even if its only digitally.
If you would like to donate anything towards it, you can go to the Full Metal Jacket Diary Kickstarter page. They're almost halfway to the $20,000 mark they need to fund the project.