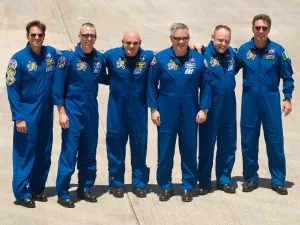 Endeavour's crew prepares for launch. Photo by NASA/Bill Ingalls.
Update: Endeavour's launch has been postponed for at least 48 hours due to "an issue with Auxiliary Power Unit 1 heaters."
NASA's space shuttle Endeavour makes its final launch today at 3:47 p.m. Commander Mark Kelly and his crew bring with them the Alpha Magnetic Spectrometer, as well as spare parts needed at the International Space Station. This is the second-to-last mission in NASA's Space Shuttle Program, which began 30 years ago with the launch of Columbia on April 12, 1981. Atlantis is scheduled for the program's final (link opens PDF) mission launch on June 28 at 3:40 p.m.
As usual, NASA offers a wealth of options for following along with today's events: its launch blog, a webcast, its Twitter and Facebook pages, and an interactive timeline. Or, you can, um, play chess. In 2008, astronaut Greg Chamitoff challenged the Earth to a chess match while he was aboard the ISS. Earth won, and now he wants a rematch. The match, which also includes astronaut Greg H. Johnson, will be hosted by the United States Chess Federation; you can suggest or vote on a move on its web site.
(Hat tip to Baltimore's City Paper, where this blog was first posted. Laura Dattaro is an associate editor at City Paper.)