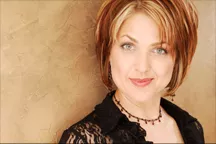 Andrea Canny performs "Contemporary Cabaret 101" at Mad Cow's CabFest
It seems like only yesterday that Mad Cow Theatre's Cabaret Festival was founded in the second-story space of downtown Orlando's Avalon building, on a small stage set for a production of "As Crowds Cheer." Now, nine years later, CabFest is concluding its ninth annual outing, the final edition in Mad Cow's current Magnolia Street theater before their anticipated move to Church Street.
If you read Al Krulick's review in the current May 5th issue of OW, you've already received the lowdown on many elements of CabFest, including headliner Jessie Nager's opening weekend performances, and the "It Was A Very Good Year: 1966" revue, which wraps up it's last show this Thursday. But one show Al didn't catch was "Contemporary Cabaret 101", featuring the fabulous Andrea Canny, ably accompanied by the seemingly-omnipresent pianist John B. DeHaas. Canny's show shrugs off cabaret's sometimes-stuffy reputation in favor of rollicking hour-long tour through often-risque recent compositions. At the debut performance I attended last Wednesday, Canny kicked off by asking the dozen-odd patrons in the audience (including former Sentinel critic Elizabeth Maupin) if anyone was "offended by the F-bomb in a song." From there, she gleefully skipped through snarky serenades about romantic trainwrecks, emotional encumbrance, and mirthful misandry, segueing between each soulfully-belted ballad with bawdy stories from her love life as a self-confessed "freak magnet." While I recognized nearly none of the musical numbers – mostly from New York composers like Scott Alan, Alexander Sage Oyen, and Goldrich & Heisler, with a deHaas original tossed in the mix for good measure – Canny cannily provides a cheat sheet of names and internet links for later googling.
You have one last opportunity to catch Andrea's show on Wednesday (5/11) at noon. It's part of CabFest's "Out To Lunch" series, which means you can get a ticket and a box lunch from Virgin Olive Market for only $22. That's a small price to pay for a meal and some first-class musical talent.
For more info, visit Orlandocabaret.com or call 407-297-8788