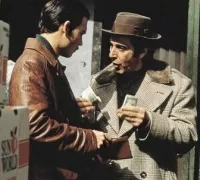 I was excited for a few seconds when I read the headline "Al Pacino Back in the Mob: Joins Cast of 'Gotti'" at The Wrap.
HBO projects Angels in America and You Don't Know Jack aside, Pacino has had a rough time of it in the last decade, not really having a great "Pacino" role on screen -- something to sink his crazy teeth into -- since Lowell Bergman in The Insider in 1999.
But those HBO projects show he still has at least something left in him, right? S1m0ne was a fluke, right? 88 Minutes was a fluke, right? So we should be excited, right?
But reading the article itself, words like "Travolta", "Preston" and "Toback" jumped, taking the edge off of my excitement.
The words "Lindsay Lohan" killed my excitement completely.
Do we really need a film about three Gotti generations? Does anyone really care about the second and third generation as anything more than an oddity in a zoo-type setting?
Who doesn't know John Gotti's story by heart anyway? PCU nailed it for the 90s with the Caine/Hackman theory, but for the modern television viewer it has become the Gotti/bin Laden theory. There is never a moment when you cannot find a Gotti or bin Laden (or 9/11) documentary on television.
Gotti's story was already a decent HBO movie anyway, with Armand Assante, Anthony Quinn and Vincent Pastore. I buy that cast a hundred times over before I even think about buying Travolta, Preston and Lohan.
Besides, it's not really the mob angle in a role that Pacino excels at, but roles that allow him the slow boil that builds into a bubbling intensity that suits him.
Lowell Bergman, the 60 Minutes segment producer, is a perfect example of that. He simmers and then boils over in great, impromptu Eric Roth speeches.
Vincent Hanna, in Heat, is another great example, one that toes along the border of parody of the raging Pacino persona, though it never quite goes off the edge into Tony Montana parody.
We've already seen De Niro become a parody of himself, do we really need Pacino to as well?