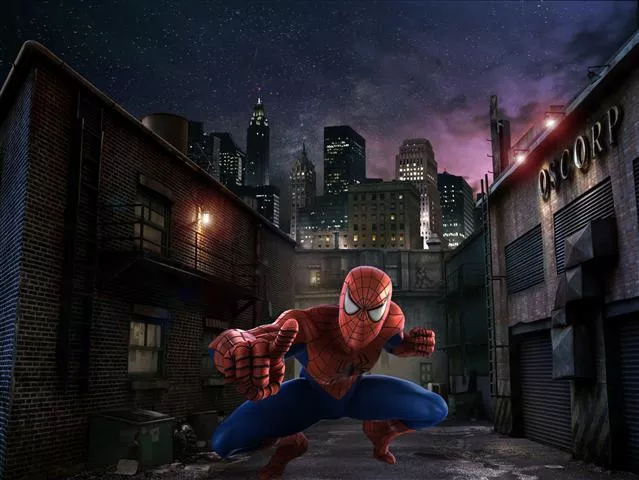 A frame from the enhanced ride film being installed in Universal's Spiderman attraction.
  In an invitation-only press webcast this morning, Universal Orlando Resort announced two new projects for 2012. For several weeks, they teased the reveal through social media, advertising that one would be a new ride, and the other an upgrade to an existing attraction.
 In a move that surprised almost no one in the industry, the attractions were revealed today as "Despicable Me," a family-friendly 3-D simulator that will replace Universal Studios Florida's current "Jimmy Neutron" ride, and a digital replacement of the original film projectors in Islands of Adventure's Amazing Adventures of Spiderman ride.
 Despicable Me, based on the recent hit Universal cartoon, was introduced by the film's producer Chris Meledandri, who is involved in the ride's production. The attraction will feature Gru and his daughter taking a trip to a theme park, and will "transform" guests into little yellow Minions, culminating in an interactive dance party. Expect the ride hardware to remain fundamentally unchanged from the attraction's Jimmy Neutron days, with the exception of new Infitec 3-D projectors.
 The upgrade to the popular Spiderman ride is already in progress, with very sharp-looking digital projections already implemented in two of the ride's scenes. When complete, the ride will feature Infitec projectiors thoughout, displaying updated animations re-rendered at top-of-the-line 4K resolution. A sample frame from the new ride film reveals much more sophisticated lighting and texture effects, down to the stitching on Spidey's costume, with new scenic details visible in the background. Universal promises the refreshed ride will also feature set enhancements and new hidden details for guests to find.
 Universal's heavily-hyped announcement was a clever way to pull some media focus away from Disney's imminent relaunch of the superb Star Tours ride, but die-hard fans may feel a bit disappointed by this less-than-shocking revelation. Rumors of more-ambitious additions like King Kong and Transformers continue to swirl unfulfilled online. And with both of these new attractions not coming online until next year, Universal will just have to continue to rely on their blockbuster Harry Potter attractions to turn the turnstiles this summer.