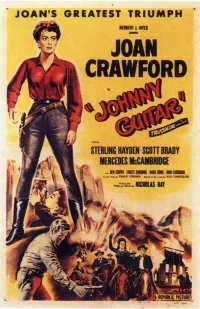 So in the highly unlikely event that the world doesn't end tomorrow, here is something you can do on Sunday: go see Nicholas Ray's subversive cult classic wester Johnny Guitar at Urban ReThink (Google Map).
Vienna (Joan Crawford) has built a saloon outside of town, and hopes to build her own town once the railroad is put through, but the townsfolk want her gone. When The Dancin' Kid (Scott Brady) and his gang hold up a stagecoach, killing a man in the process, the townspeople, led by Emma Small (Mercedes McCambridge), come to the saloon to grab them. Vienna stands strong against them, and is aided by the presence of an old acquaintance of hers, Johnny Guitar (Sterling Hayden), who is not what he seems. (edited from IMDb.)
The film was a deep influence on every French New Wave film you love, so go and check it out.
The screening starts at 7:30, but show up early.