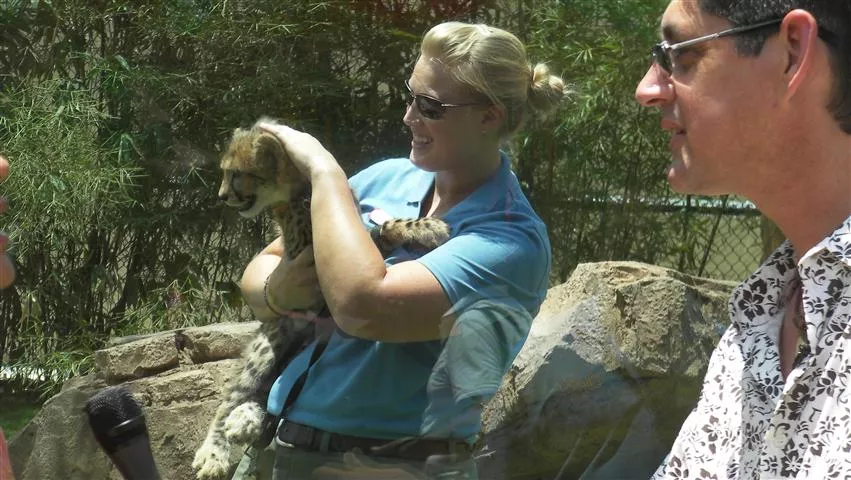 Scenes from the animal enclosure at Busch Gardens Tampa's new Cheetah Hunt
You ever have one of those days? You know, the kind of day where you drive all the way to Tampa (at $3.70 a gallon, not an inexpensive outing) to experience a brand-new rollercoaster, only to find out that the ride is broken down? And then you film some great interviews with the park President and VP of Design, only to have your aging flip-cam corrupt the video files? Yeah, I had one of those kind of days.
Cheetah Hunt, Busch Gardens Tampa's newest Intamin-designed megacoaster, finally got off the ground in time for tonight's VIP party, but by that time I was back in Orlando at the Fringe Festival. The twitter-buzz from those who got to experience the terrain-hugging coaster's triple lanunches has been positive, but my review will have to wait for my next trip.
I did get a chance to check out Cheetah Run, the new animal enclosure that integrates with the ride structure, much as Manta meshes with its aquarium at Sea World. The long grassy environment with glassed in overlooks reminds me of the tiger walking trail at Disney's Animal Kingdom, and designer Mark Rose assured me that the coaster's architecture was engineered to minimize distraction to the big cats. The starring attraction is baby cheetah Kasi, who is being raised alongside a laborador pup named Mtani. Watching their playful wresting (along with a quick whiplash-inducing whirl on Montu) saved the day from being a complete waste.
So, in the absence of information and analysis, here are some adorable cat photos.
[gallery columns="2"]