The more years I attend the Orlando International Fringe Theatre Festival, the more I realize that putting on a successful show there is like being a Boy Scout, or an abstinence advocate on prom night: You gotta be prepared.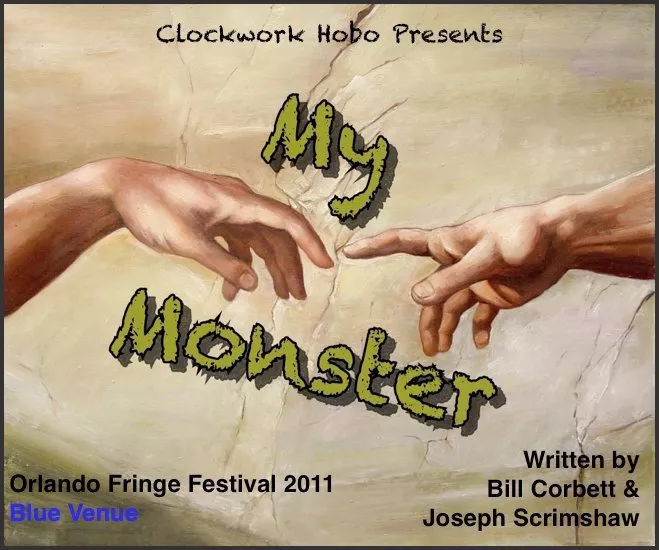 I was thinking this last night during the wonderful My Monster, as I listened to Philip Nolen and William Hagaman trade rapid-fire barbs, interrupt each other on cue and reel off tandem punchlines with pinpoint timing. This is the kind of comedy you shouldn't even attempt unless you're ready to rehearse, rehearse, rehearse. Forget that the protestant work ethic might seem a strange bedfellow to fringe theater; it's what the audience deserves. And if you're willing to apply it, they'll respond.
And then you know what happens? Patron's Pick.
I recall a conversation I had with the show's director, Meghan Moroney, just a few hours before the festival got under way nine days ago. Moroney told me she had handed scripts to her actors all the way back in November -- a time when, I'm sure I'm not incorrect in surmising, some of the groups performing in this year's festival had barely decided what their show was going to be about.
I'm always amazed to hear people blithely admit mere weeks before the Fringe starts that they haven't finished their final draft (which is sometimes their only draft), or that they've only had a handful of initial rehearsals. Now, I don't want to sound like a scold here; I've been on the other side of the curtain (as a playwright), and I know the whole undertaking has a way of getting away from you if you're not careful. And there's not a lot of impetus to finish off an original script until you're sure the lottery has netted you a place in the schedule. But that still doesn't explain the amount of material we all see every year that is -- to put it delicately -- ill-considered, under-rehearsed horseshit.
Admittedly, Moroney had it a bit easy: She didn't have to write a script herself. Instead, she lucked upon an already-extant one that Mystery Science Theater 3000's Bill Corbett and Trace Beaulieu had performed as a reading at the 2010 DragonCon in Atlanta. (Corbett had written it with veteran Minnesota Fringe contributor Joseph Scrimshaw.) Finding unknown material that's "perfect for Fringe" is the dream of just about everybody who has ever participated in the festival -- and lucking upon such a gem must make a producer or director feel like the Damon and Affleck characters in Matt and Ben, watching the completed script to Good Will Hunting literally fall from the sky and into their apartment.
But in a way, Moroney's preparation had begun long before she and her co-director, Ryan Gigliotti, heard My Monster read at DragonCon and had their epiphany that it would be perfect Fringe fodder. The process had really started when she began to set up the sort of social network that would eventually allow her to present herself to Corbett and Scrimshaw as a credible steward of their work (to put a fine point on it: On Twitter, Neil Gaiman follows her) -- and ultimately to promote the show to like-minded genre cultists across the state and around the nation.
Then comes the grunt work -- the running of the show again and again to get every last nuance right. Monster began rehearsals last March -- again, an eternity ago for some of the less-intrepid troupes -- and Moroney swears she was ready and willing to pull the plug had either of her handpicked performers been forced to drop out for any reason.
Having a vision and seeing it through; that's what we're talking about here. Of course, the concept applies all the more to purely original shows. What I said earlier about lottery notwithstanding, the most diligent groups make it a point to start writing as soon as they have an idea, then produce draft after draft to figure out what works and what needs to be added -- and more important, what to cut. (The failure to grasp the importance of this last point is why some of the poorest Fringe shows seem simultaneously underthought and overwritten.)
Particularly smart writers and performers find ways to workshop the material far in advance. Canadian fave TJ Dawe has done this effectively in the past, devoting one performance of a Fringe run to a work in progress -- thus giving him vital audience feedback while simultaneously promoting his next return engagement.  To name a more immediate example, I'm not exactly sure where I was and what I was doing the first time I heard The Oops Guys perform one of the songs they had written for their long-gestating Bitches of the Kingdom. But it's entirely possible my other preoccupations at the time included enlisting a nice policeman to help me find my mommy in a department store.
By my reckoning, Bitches was close to a decade in the making. And now? Now, just about every paid or unpaid commentator on local theater is saying the show has a strong shot at a national run. (Boy, does that sound familiar.)
I guess that, as with so much else about the Fringe, that kind of wise planning comes down to simple choices. Do you want to get to the Belasco in 10 years, or to the beer tent in 10 minutes?