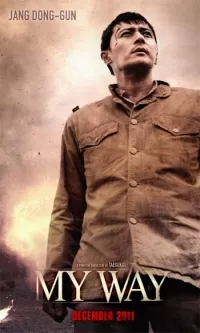 The South Korean box office is a strange creature. It's one of the few countries in the world where domestic films generally outperform or play closely to foreign films in terms of market share (the only other two I can think of are Japan and India, off of the top of my head).
That number has been steadily on the decline since the Bush White House lobbied successfully to have the domestic screen quota in Korea slashed to an insignificant number, but it's also partly the Korean film industry's fault for being so ridiculously risk averse that Gordon Gekko would be proud to do business with them.
Through it all, director and producer Kang Je-gyu is probably the most interesting director in the country if you are thinking in terms of box office in South Korea (though not necessarily quality of the cinema itself).
He has twice previously been the box office king. His first crown came with Shiri (1999), the Hollywood- and Hong Kong-inspired actioner about a North Korean sleeper cell (led by Choi Min-sik of Oldboy) within South Korea. It was the first of the New Korean Cinema blockbusters, playing well throughout the country (as opposed to just playing well in Seoul/Inchon and Pusan, which, for lack of a better analogy is like their NY/LA platform), ending up with 6.2 million admissions (God, I absolutely love that they track it by admission there instead of dollars).
The record stood until 2001 when Kwak Kyung-taek's gangster film Friend overtook it. Kang Woo-suk's military uprising film Silmido then overtook Friend, becoming the first to 10 million admissions.
Kang's second crown then came with the Korean war epic Taegukgi: Brotherhood of War (2004), about affects of the Korean War on two brothers. It ended up with 11.7 million admissions, as well as breaking the $1m mark at the American box office, which is something Oldboy didn't even reach. (Kim Ki-duk's Spring, Summer, Fall, Winter... and Spring leads the way with a $2.4m haul in North America.)
Since then, both Lee Jun-ik's The King and the Clown (12.3m admissions) and Bong Joon-ho's sea-monster thriller, The Host (13m admissions) have taken over the top spot, leaving The Brotherhood of War in third place and Shiri all the way down in 16th place.
This is all by way of tell you that there is now a trailer for Kang's attempt for the hat trick, My Way, the World War II journey film that is comprised of Korean, Japanese and Chinese actors. Twitch Film has the trailer (which appears to be overly fond of the open credit sequence from HBO's Band of Brothers, but, you know, rightly so).
South Korean films, once difficult to find outside of great video stores or Asian film festivals, are becoming a staple here between VOD and Netflix -- especially the big films. This will certainly make it over here, if only on the strength of names like Kang's, or Jo Odagiri and Fan Bingbing.
Okay. Now you can go see X-Men!
(Thanks to Rahat, who runs Life as Fiction, for the heads up.)