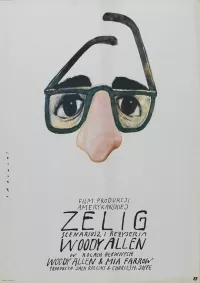 This is the first in a weekly series intended to knock the dust of time off of some of our favorite underrated films.
==========================
When you think about, or talk about, Woody Allen films, its always the same few that come up. Between whatever he has out right now (Read Justin's Midnight in Paris review!), Annie Hall, Manhattan or Hannah and Her Sisters, they make up the lion's share of the Woody Allen conversation as it stands currently.
If it's a thought or conversation of any length, then Crimes and Misdemeanors or Bullets Over Broadway (or maybe one of the older, funnier films) might squeak in there somewhere, or else it'll descend into some nonsense about the Soon-yi scandal, or turn to a question of which of his evil twins, exactly, made The Curse of the Jade Scorpion.
The man has directed over 40 films now, going back to What's Up, Tiger Lily? in 1966, so it's not difficult to see why some films would necessarily get left out of the conversation. But of all of the films left out, it's the brilliant faux documentary Zelig that seems like the greatest injustice.
It feels odd calling a film with a perfect 100% on Rotten Tomatoes underrated. In fact, it was one of his best reviewed films upon release, and even did well at the box office for a highbrow comedy. Zelig was written and shot in tandem with A Midsummer Night's Sex Comedy, and the two comprise his first works with Mia Farrow on board after a string of hits with Diane Keaton.
It was one of his strongest periods, but it seems as if Zelig is one of the least viewed Allen films now for people under a certain age. It was even one of the last Allen films that I saw (for the record: all of them, except Alice and What's New, Pussycat). There seemed to be no cultural pressure to see it, unlike Annie Hall or Crimes and Misdemeanors, or even Stardust Memories, Allen's B&W take on Fellini's 8 1/2. But I ended up seeing in Zelig one of the greatest comedies he has produced.
Allen plays Leonard Zelig, the great curiosity of the jazz age, a so-called human chameleon. So desperate is Zelig to be liked – or, more accurately, so desperate is Zelig to not be disliked – that he becomes, physically, the people he is surrounded by.  Around Greeks, he becomes Greek; around fat men, he becomes fat; around the great black jazz musicians, yes, he becomes a great black jazz musician.
It all stems from a party during his college days when he was asked his opinion on Moby Dick. Having never read it, he is seized by a fear of being ostracized by his peers for having not read something so basic and canonical, and so instead of admitting the truth, he instantly states that he has read it and enjoyed it. This simple white lie is the gateway to a deepening psychological state of ever-changing uniformity.
When he comes to the attention of the world at large (thanks in no small part to the jazz age's other great legend, F. Scott Fitzgerald, who, at a party, observes Zelig morph between upper-class, old-money republican with the guests and a lower-class, poor democrat with the help), Zelig comes under the care of a female psychiatrist, Eudora Fletcher (Mia Farrow), who is banking on making her career on solving his case and returning him to a normal life. For a woman in the '20s to want to do this was an outrageous thing, and she comes up against the brunt of her male peers who dismiss her ideas and theories, going so far as to claim there is nothing actually wrong with Leonard. But she stands her ground in spite of private and public pressures to give it up, which serves as the perfect juxtaposition to Leonard's easy way out.
Much of the psychology of this story stems from Allen's childhood, which is greatly colored by the shadow of WWII. In Radio Days he spends his time in Coney Island looking for German U Boats. In Zelig, he spends his wit and insight on the ability of fascism to exploit this flaw in human nature to fit in, to be liked, or to not be disliked. Fascism depended on this willingness to get along that many, if not most of us, are the victims of. It wass the great bully party, and there exists no real firewall to this flaw being exploited again aside from the easily distracted media and wonderful comedians, exploiting the exploiters.
But somehow the word mockumentary doesn't quite fit Zelig, despite the fact that it fits both definitions of the word "mock." At the time of its release, all anyone could talk about was that the film was a technological achievement for Allen and director of photography Gordon Willis, which is something that bothered Allen greatly. Well, it was a great technological achievement, of course - especially in the pre-CGI days when even ILM was still doing practical effects - but the story ended up being largely ignored as something funny, but frivolous, never quite reaching the heights of his previous films.
It's an absurd stance, though. Zelig remains Allen's most thoughtful commentary on the human condition. Yes, it looks like it will be boring from the trailer and the posters, but this is mainly because it is meant to mock those types of documentaries, the kind you were forced to sit through in school. There is just no way to accurately portray the depth and breadth of the film, promotionally speaking. There is only to sit back and watch it.
[youtube fsjt-lNtSfg]