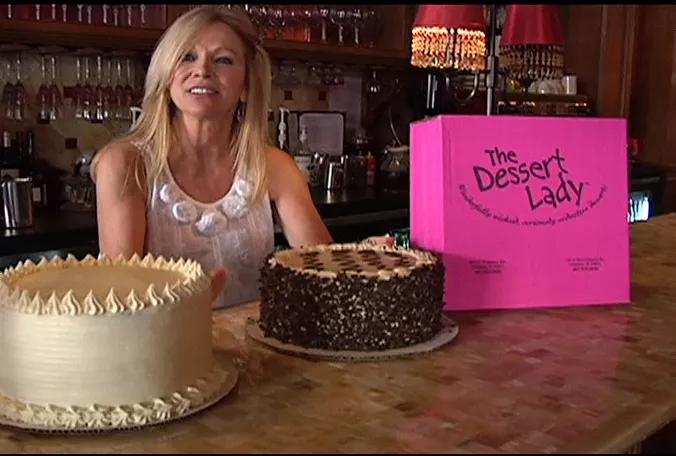 It was only a matter of time before somebody figured out how to bring some funny bread to the unfunny bread-and-circuses moment unfolding down at Orange County Tower of Justice, and apparently that time was last Friday (so we're a week late!). We just got a call from somebody who we sleep with who happens to be watching the Casey Anthony fracas on television (he is bored, perpetually) and he told us that, following a quick jury recess, Judge Belvin Perry quizzed the jury pool about a certain bunch of packages left for them back in their holding pen. Guess what! The packages were from our favorite entrepreneurial sweets peddler, Patti Schmidt of The Dessert Lady on Church Street!
OK, before you cry, "GROSS!" like we just did (before sputtering off into some discussion of blood-red cakes or babycakes or cupcakes with stray hairs in them), let's let Patti explain herself.
"I'm doing it because it's the only small way I can have a part in getting some justice for that poor, beautiful little baby girl," says Schmidt.
See there? It's not crass product placement at all. But even if it was, "I don't know why nobody else thought of it," says Schmidt, coyly.
In fact, Schmidt contacted Mayor Buddy Dyer last week hoping to make a donation to the poor jurors bussed in from the Tampa area – because she's from Tampa Bay, see, and she "feel[s] sorry for them. It's like they're in prison." Someone called someone who called someone and all of the sudden, Schmidt's "cakebites" – carrot cake, cheesecake, Oreo cheesecake – were being talked about all over the freakin' world. Also, she sent Judge Perry a box of cookies! Nice.
"It's a real somber event," says Schmidt. "I'll sort of be pissed if I'm donating all of this dessert and the jury acquits her!"
Justice, totally served.