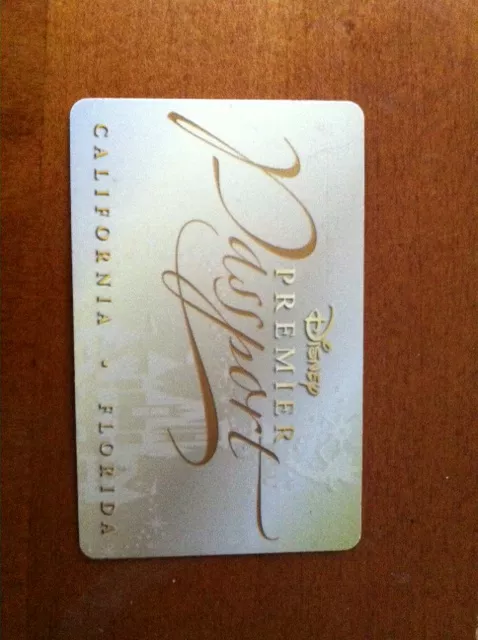 Disney's Gold Card: Now costs more green.
The the outsider's eye, the theme park industry may look like it's built on cotton candy and furry costumes. But behind the scenes, it's a numbers game like any other business, and there's nothing fluffy or fuzzy about the figures released in recent weeks. Two crucial sets of Disney digits became public in the past few days, one trending upwards, and the other headed down.
The first set of figures came the Themed Entertainment Association (TEA), the industry analysis organization behind the most widely-accepted statistics on amusement attraction attendance. According to the figures compiled by technical support services firm AECOM for TEA's 2010 Global Attractions Report, Walt Disney World is still sitting at the top of the theme park food chain, but its perch became slightly shakier last year. In 2010, admissions at Orlando's Magic Kingdom – the world's most popular theme park – reached 16.972 million, a 1.5% decline from 2009. Epcot and Disney's Hollywood Studios also suffered similar attendance drops. Animal Kingdom alone posted a modest increase, finally edging it ahead of the Studios into 3rd place among Disney's Florida parks.
Overall, Walt Disney World lost 337,000 visitors last year, and SeaWorld lost 12% of their guests. Their loss was Universal Orlando's gain, as the Wizarding World of Harry Potter pushed Islands of Adventure to an astounding 30.2% increase over 2009. Universal Studios Florida also posted a significant 6.1% uptick, for a combined resort attendance of 1.717 million. Keep in mind that both Universal parks still trail behind all of Disney's domestic parks in attendance, including the much-derided California Adventure. However, since the blockbuster Harry Potter project was only open for 6 months of the reporting period, Universal stands to make a substantial leap again in 2011's statistics.
Coincidentally, Disney and Universal recently released new numbers of their own: higher admission prices. Though price hikes have traditionally come at the end of the summer season, Mickey announced new gate tariffs earlier than ever this year, effective Sunday June 12th. A one-day/one-park adult ticket will now run you $85 plus tax, a 3.7% increase, while a 10-day pass jumped 11.1% to $291. Annual and seasonal passes also saw increases, with the top-of-the-line bi-coastal "Premiere Passport" increasing $50 to $749.
Naturally, Universal Orlando followed suit, matching Disney's one-day price, though their annual prices remain the same. Also, Universal is now offering a $20 discount (up from $10) on multi-day tickets purchased in advance online, giving guests even more reason not to line up at the ticket booths.
Time will tell how customers react to the new pricing, but if the past is any indication, enough tourists will continue paying through the nose to let the parks turn a healthy profit.