Gary Oldman (left) as Beethoven
Immortal Beloved is no Amadeus. Released a decade after Milos Forman's operatic, Best Picture-winning biopic of Mozart, the comparisons of that instant classic to writer-director Bernard Rose's speculative love story/mystery surrounding Ludwig Von Beethoven's unknown paramour, were inevitable and brutal.
Receiving mixed reviews despite a buzzed-about performance by Gary Oldman as Beethoven, the film made only $1o million. Its overstuffed trailer mentioned "Hot Shots 1 & 2" as if that were a draw for its audience. It ranked 110th in box office out of all films released in 1994, 61 spots below Pauly Shore's In the Army Now.
It wasn't nominated for a single award. Not even a Globe. It's not talked about in any circles these days.
Next week, it finally comes to standard DVD via a "Deluxe Edition" that contains just a couple of featurettes. Currently on pre-order, it's ranked #3,970 on Amazon's movie-sales list.
It's not likely to appear on the Onion AV Club's amazing series, "The New Cult Canon."
Immortal Beloved gets no respect.
Why? It beats me. I love it, and have since it was perennial viewing for my high-school sweetheart and I. Immortal Beloved begins with the death of Beethoven and his mourning by swells of crowds openly mourning his passing. It ends with one woman doing the same. She was his "immortal beloved" and never knew it. Nobody did, and nobody likely ever will.
The mystery of the woman to whom he professed everlasting love has never officially been solved, though scholars seem to agree that it was likely Josephine Brunsvik (played in the movie by Geno Lechner), a Countess whom he couldn't marry because he was a commoner.
Bernard Rose has other plans with Immortal Beloved, which follows Beethoven's real-life biographer, Anton Schindler (Jeroen Krabbé) on a mad quest to uncover the mystery woman. As he interviews the many scorned women the composer left behind (the film follows the same basic structure as Citizen Kane, of all things), he hits a wall time and time again. Beethoven was amorous, tortured, misogynistic, prone to fits of romanticism and, most troubling of all, going deaf. His music is clearly the most important thing in his life, yet it's irreversibly tied to the women he eventually abhorred. Now they're both failing him.
Gary Oldman is jaw-dropping as Beethoven, betraying emotional requiems with his eyes and harboring a bitterness that seems unusually targeted. Only in the last scene do we learn its source: according to Rose, it's the same answer that Schindler seeks. His Rosebud. The woman in question is revealed, and her identity is touching in and of itself. The last sequence incorporates elements of Romeo and Juliet, as well – a missed connection with disastrous results. It's narratively juicy, to say the least.
Rose's sweeping camera captures war, funerals, galas, operas and grimy European streets like a kid in a candy store, yet his screenplay is tightly wound enough to act as an anchor when the scenery threatens to envelop the story. There are intimate moments, as well: One, in which Valeria Golino's Giulietta, a piano student and lover of Beethoven's, lures him into her estate with a new piano, then hides with her father and watches him play – a strenuously difficult thing for him considering his then-secret deafness – is intimate and heartbreaking. The way Oldman lowers his ear to the instrument for the vibrations and, from them, plays "Moonlight Sonata" for the first time, is the stuff Oscars are made of.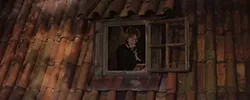 So why wasn't he nominated? It may have a lot to do with Rose's hubris. According to some reports, he insisted that he himself solved the Immortal Beloved mystery and that this film was, in his opinion, something like factual truth rather than a beautiful love story. Today, the film would fit right in with the historical revisionist sandbox Hollywood has been playing in so gleefully. When Buzz Aldrin goes on camera and says the moon landing was about Transformers, Kennedy's Missile Crisis speeches are twisted to include the existence of the X-Men and Abraham Lincoln is a vampire hunter, Immortal Beloved is, by comparison, a gentle twist. But Rose couldn't leave well enough alone, and apparently received no official support for his finding.
As a movie, however, his explanation plays remarkably well. The love quadrangles make for fine entertainment, while the Immortal Beloved herself is the beating heart of the picture, always there in some form, driving him to passion, insanity and greatness.