Not guilty. That pair of words, uttered three times, sent dozens of onlookers into a hooting, sobbing frenzy, as the
Orlando Weekly
, having no official media credentials, watched the verdict of the Casey Anthony trial from a restaurant located at the ground floor of the Orange County Courthouse building. The jury ruled that Anthony, accused of killing her 2-year old daughter Caylee in June 2008, was not guilty of murder, not guilty of manslaughter, and not guilty of aggravated child abuse. (Anthony was found guilty, however, of four counts of lying to a law enforcement officer, which could land her a maximum of four years behind bars. She will be sentenced Thursday morning.) Verdict, followed by crowd reaction, starts at 2:30 in the video below. [youtube UZNVE-q-4GE] You'll notice that the collective outcry gets more hysterical with each "not guilty" pronouncement, but sadly, we didn't leave the camera rolling long enough to catch defense attorney Jose Baez embracing Anthony, and the resulting scream – yes, a
scream
—from one middle-aged Hispanic woman in attendance. After the verdicts had settled upon the crowd at Champs Cafe, we counted at least five sobbing women, who consequently became magnets for TV cameras and photographers. Below is CNN photographer Shaul Schwarz getting a good look at the most distraught of the women, that is, after pushing her purse aside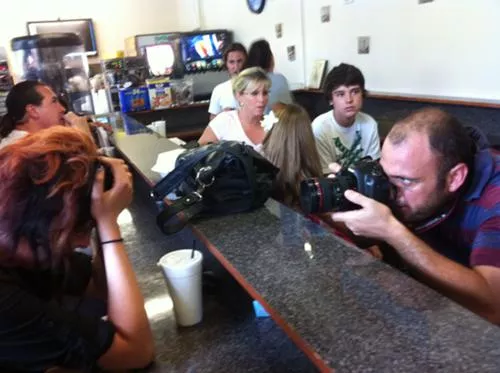 the Weekly chose not to interview her, having thought of the word "vulture" several times while watching the other journalists in action. Is the verdict a surprise? Not completely. A June 16 article in
Time Magazine
adeptly pointed out that the prosecution's case against Anthony was "
astonishingly weak
." In other news, here's an informational message from the Orange County Jail's public information officer Allen Moore, to whom we send our deepest sympathies:
Inmate Casey Anthony is now back in custody at the Orange County Jail's Female Detention Center. She remains in protective custody status as before.
Anthony is not eligible for inmate media interviews and will never be as long as she is an Orange County Inmate. (Please do not ask.)
As always no information will ever be revealed regarding the transportation methodology or transpiration operations of the Orange County Corrections Department.
Orange County Corrections will never discuss the demeanor or reactions of any inmate in our custody to external events.
And we agree,
Kim Kardashian Probably Shouldn't Have Tweeted About The Casey Anthony Trial
.