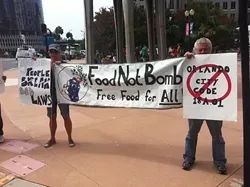 The group Orlando Food Not Bombs (OFNB) held its regular Monday food sharing in this morning in an irregular spot—the steps of City Hall. The group is taking Mayor Buddy Dyer up on his invitation to "let Food Not Bombs gather in front of City Hall any time they liked, saying he'd even donate some of the peppers he grows on his mayoral balcony to the chili pot," as expressed through Orlando Sentinel columnist Scott Maxwell on June 7.
Members of the group also plan to serve lunch in the same spot at 1 p.m. to precede the group's presence at today's 2 p.m. city council meeting, at which several OFNB members have arranged to speak. Group member Mark Shipley indicates that in addition to those speaking, many more will be present in the audience. "We're trying to pack the room," Shipley says. "We've got other groups coming out, rolling deep."
OFNB member Brock Monroe presented the Weekly with the below permit, which the city to issued the group today, reportedly unsolicited, as they had to the group on May 18 and May 23 at Lake Eola Park. (The city started making arrests on June 1st, and OFNB members have been arrested nearly every Monday and Wednesday since then. So far, 27 people have been arrested and detained for violating the city's Large Group Feeding ordinance.)
City spokeswoman Cassandra Lafser could not immediately be reached for comment.
Some of Orlando's homeless also lent themselves to OFNB's campaign, such as Sean Rogers, below:
as well as Theresa McDonald, a middle-aged homeless woman who says she was present for the very first food sharing arrest in Orlando's history, and hence, will be present at the meeting of the City Commission today. "I've been in this fight since the beginning," she says.