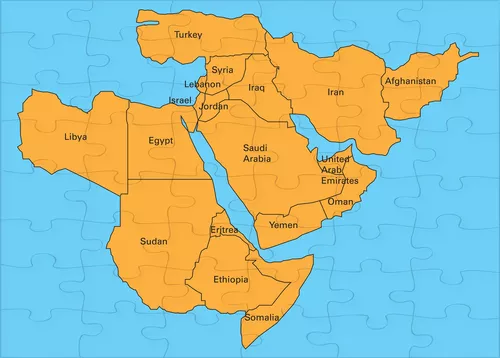 As you may recall,
last week
we ran an article about the struggles of Syrian- and Libyan-Americans here in Florida to come to terms with the revolution gripping their countries overseas. The article profiles two women in particular, Dena Atassi, a 26 year-old whose family hails from Homs, Syria's third largest city, and 30 year-old Wafia Sayf, who has never touched Libyan soil but has family in the southern city of Sabha. Both have become activists for their respective countries, whether that is on the street protesting or coordinating logistics over Skype calls. I am personally fascinated by Middle Eastern affairs, so I accumulated a bit of extra material that I feel is worth sharing here. One unpublished interview was with University of Central Florida student and Libyan national Nader Mehdawi, who is among 16 other Libyan students on a government-sponsored program to get a masters' degree—his is in civil engineering. The only trouble is that the U.S
. froze the assets
of the Libyan government in late February—but that made Mehdawi even more determined to get his degree. "Some people, they fight with guns, or whatever," Mehdawi says. "But my weapon to take this certificate back to Libya." Mehdawi says he plans on using the knowledge gained here to rebuild his country when he returns. But while he waits to find a way to fund his education, he says he may have to get a job delivering pizzas, or tending bar, or anything that'll put some money in his pocket—after all, the U.S. government recently gave him
permission to do so
. Sayf's organization, Hope Relief, offers emergency assistance to struggling Libyans, but Mehdawi says he isn't desperate enough yet to ask for money. In other news, Dena Atassi's father's cousin, Mohammad Ali Atassi, recently penned an
op-ed in the New York Times
about the Syrian revolution:
My own father governed Syria for four years, but I inherited from him neither power nor fortune. What I inherited was a small suitcase, sent to us from the prison after he died. It held literally all of his belongings after 22 years in confinement. All I remember from this suitcase today is the smell of the prison's humidity that his clothes exuded when I opened it.
One of the most salient features of the Syrian-American organizing community seems to be the swap of gruesome videos taken by pen cameras or simply in the aftermath of the Syrian government crackdown and subsequently posted on YouTube. I've reproduced a few of the videos that Atassi sent me below, but
be warned, some of this footage is very graphic.
[youtube NK81MIJITSo] [youtube sXTT77g2Ko8] [youtube 5I1e8EzIZQM] [youtube ncL4wYth6cU] On a much lighter note, if you had first read the article and thought that "Muammar Qaddafi" was the incorrect spelling of the Libyan dictator's name, think again. According to ABC World News, there are fully 112 correct ways to translate his name into English, given that gleaning the Roman characters from the cursive-like Arabic script is an art, not a science (an eccentric art, judging by the presence of numbers down there). Here's a good chunk of them:
Qaddafi, Muammar
Al-Gathafi, Muammar
al-Qadhafi, Muammar
Al Qathafi, Mu'ammar
Al Qathafi, Muammar
El Gaddafi, Moamar
El Kadhafi, Moammar
El Kazzafi, Moamer
El Qathafi, Mu'Ammar
Gadafi, Muammar
Gaddafi, Moamar
Gadhafi, Mo'ammar
Gathafi, Muammar
Ghadafi, Muammar
Ghaddafi, Muammar
Ghaddafy, Muammar
Gheddafi, Muammar
Gheddafi, Muhammar
Kadaffi, Momar
Kad'afi, Mu`amar al- 20
Kaddafi, Muamar
Kaddafi, Muammar
Kadhafi, Moammar
Kadhafi, Mouammar
Kazzafi, Moammar
Khadafy, Moammar
Khaddafi, Muammar
Moamar al-Gaddafi
Moamar el Gaddafi
Moamar El Kadhafi
Moamar Gaddafi
Moamer El Kazzafi
Mo'ammar el-Gadhafi
Moammar El Kadhafi
Mo'ammar Gadhafi
Moammar Kadhafi
Moammar Khadafy
Moammar Qudhafi
Mu`amar al-Kad'afi
Mu'amar al-Kadafi
Muamar Al-Kaddafi
Muamar Kaddafi
Muamer Gadafi
Muammar Al-Gathafi
Muammar al-Khaddafi
Mu'ammar al-Qadafi
Mu'ammar al-Qaddafi
Muammar al-Qadhafi
Mu'ammar al-Qadhdhafi
Mu`ammar al-Qadhdh?f? 50
Mu'ammar Al Qathafi
Muammar Al Qathafi
Muammar Gadafi
Muammar Gaddafi
Muammar Ghadafi
Muammar Ghaddafi
Muammar Ghaddafy
Muammar Gheddafi
Muammar Kaddafi
Muammar Khaddafi
Mu'ammar Qadafi
Muammar Qaddafi
Muammar Qadhafi
Mu'ammar Qadhdhafi
Muammar Quathafi
Mulazim Awwal Mu'ammar Muhammad Abu Minyar al-Qadhafi
Qadafi, Mu'ammar
Qadhafi, Muammar
Qadhdh?f?, Mu`ammar
Qathafi, Mu'Ammar el 70
Quathafi, Muammar
Qudhafi, Moammar
Moamar AI Kadafi
Maummar Gaddafi
Moamar Gadhafi
Moamer Gaddafi
Moamer Kadhafi
Moamma Gaddafi
Moammar Gaddafi
Moammar Gadhafi
Moammar Ghadafi
Moammar Khadaffy
Moammar Khaddafi
Moammar el Gadhafi
Moammer Gaddafi
Mouammer al Gaddafi
Muamar Gaddafi
Muammar Al Ghaddafi
Muammar Al Qaddafi
Muammar Al Qaddafi
Muammar El Qaddafi
Muammar Gadaffi
Muammar Gadafy
Muammar Gaddhafi
Muammar Gadhafi
Muammar Ghadaffi
Muammar Qadthafi
Muammar al Gaddafi
Muammar el Gaddafy
Muammar el Gaddafi
Muammar el Qaddafi
Muammer Gadaffi
Muammer Gaddafi
Mummar Gaddafi
Omar Al Qathafi
Omar Mouammer Al Gaddafi
Omar Muammar Al Ghaddafi
Omar Muammar Al Qaddafi
Omar Muammar Al Qathafi
Omar Muammar Gaddafi
Omar Muammar Ghaddafi
Omar al Ghaddafi
And, as you probably know, the International Criminal Court is
now looking for
the man with 112 names.