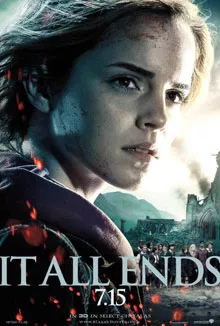 For most news outlets, the big news stories of the week were Harry Potter shattering basically every screen record ever (while also being pretty damn good), who got snubbed and who was undeserving in the Emmy noms, and the News of the World hacking scandal.
Boooooring.
The Netflix price hike was the thing that got under my collar the most this week. It's the perfect example of how we all eventually lose because of price wars. I said in my earlier blog post that Blockbuster was not the answer to this problem. But maybe it is?
I harbor a lot of ill will towards Blockbuster from my two years working there, but I do tend to forget it's a completely different company now (owned by Dish Network now). But they are trying to jump on the ill will that Netflix is now creating by offering a free 30 day trial for new users. I still don't think it's an answer for users like me who consume movie voraciously -- mostly because of the way their On Demand system works -- but it might be an answer for some because you can also rent games and Bluray for the same $9.99 for one-at-a-time price point.
Why aren't the studios fighting against this price hike, though? Instead of getting some money from the users who are going to flee, they'll be getting nothing from a lot of those customers who will be fleeing directly to The Priate Bay or Usenet to download their movies for nothing. The whole thing just seems lose/lose.
Okay, now some Harry Potter news!
-We hope you were one of the lucky Harry Potter fans who went to the midnight screenings at Universal and got from Wizarding World of Harry Potter tickets. I didn't (still in Denver). I don't want to brag or anything, but Hagrid was at my screening. Pfft.
-It could have been worse for you, though: the print could have melted at your screening.
-Feel like moving to Tutshil, England? If so, why not buy J.K. Rowling's childhood home.
-Lord Voldemort is just lonely and misses his kitten, like Prince Vigo.
-It wouldn't be an event if it didn't have a Taiwanese animation. The Ron/Hermoine photoshoot is particularly funny.
-The Atlantic's Conor Friedersdorf asks the question "What If Sarah Palin Starred in a Movie and No One Showed Up?" and sort of got his answer.
-Rolling Stone takes a stab at the mid-point Oscars.
-Another baby for Pam and Jim on The Office? Oh, good. Because the first baby didn't ruin the show quite enough.
-Jean-Luc Godard once again pronounces film dead in this Filme Socialism interview, but we can't help noticing that he keeps making films.
-Antonio Banderas and Steve Coogan join Zoe Kazan and Paul Dano in Johnathan Dayton and Valerie Farris's new film, He Loves Me Not, written by Zoe Kazan. Kazan is an interesting actor, but one who hasn't really done anything of interest yet aside from her small role in Revolutionary Road.
-Empire analyzes the chess game played between Max von Sydow's Antonius Block and Death in Ingmar Bergman's The Seventh Seal.
-The Playlist has a rundown of the lost films of Terrence Malick.
-Diablo Cody is doing a polish on The Evil Dead remake. Silencio, naysayers! (Again, no word on Cheeseburger Phone.)
-Scorsese's George Harrison documentary was picked up by HBO films.
-Here's the first detailed look at the new Spider-man Costume from The Amazing Spiderman. I like Andrew Garfield as an actor a lot, but I still hate the idea of someone not from New York playing Spidey (I didn't like Tobey as Spidey either). He's been talking in a Queens accent for 20 years in my head, dammit.
-Here are the winning entries for the BFIs Women on Film contest. None of the ones I liked won. I don't know if that's a knock on my taste or the BFIs.
-The NYT has a profile of Justin Timberlake and his segue into acting.
-And one of Miranda July, too.
-A few pieces of Korean film news now:
1) Isabel Huppert's next role is in Hong Sang-soo's next film, which doesn't have an announced title yet that I can find. I agree with Richard Brody to an extent that he is probably the most exciting South Korean director, but his films are always very hit or miss. He's made a few of my favorite Korean films (Tale of Cinema, Virgin Stripped Bare by her Bachelors, Night and Day) but other's, like Woman on a Beach fell somewhat flat, and The Day a Pig Fell Down a Well is unwatchable with the state of the subtitles (sadly, this was one of the first Korean DVDs I ever imported, and I didn't know about the subtitle issue). The trailer for Hong's new film makes me miss snowy winter so much. Damn you, summer fans!
2) Looks like the American adaptation of Park Chan-wook's Oldboy will finally go ahead, and Spike Lee will be behind the camera. Damn you, Roy Lee!
3) Speaking of which, Josh Brolin is at the top of Mandate's wishlist to play the vengeance seeking Oh Dae-su originally played by Choi Min-sik (who is thankfully back acting on screen again after a long boycott because of the cut in the Korean screen quota).
Lots of trailers this week:
-As with Final Destination 5, I'm related to the screenwriter for The Thing and offer no commentary, just a link to the first theatrical trailer.
-Here is the first trailer for Sherlock Holmes II: Sherlock Harder.
-And the trailer for John Carter.
-And the trailer for Martin Scorsese's Hugo. (This looks pretty odd for a Scorsese film, though it pretty much has to be better than Shutter Island.)
-Steven Soderbergh's Contagion, which, incidentally, opens on my birthday.
This week's vintage article is Beverly Walker's 1975 interview with Terrence Malick from Sight and Sound Magazine, one of, if not the last, interview he gave before his long hiatus.
-That oil spill cleanup machine of Kevin Costner's that everyone clamored for BP to buy? Yeah, turns out it kind of sucked. Oops.