On the morning of July 11, Mayor Buddy Dyer and the City Commission attended a budget presentation given by the city's chief financial officer, Rebecca Sutton. One of the handouts, reproduced at the bottom of this post, contained this piece of information in the introduction: "
In response to the economic downturn, the City reduced its recurring expenses (including the elimination of more than 400 positions), reduced or eliminated services and fulfilled a commitment to reducing the size of government with the only new spending going toward police and fire protection."
We're not sure what happened inside the Council Chambers that morning, but perhaps the presentation was so well-received that a city staffer--or perhaps even the Mayor himself--found it worthy to update Mayor Dyer's Facebook status on Wednesday with a paraphrased version of that introduction. Have a look at the below screenshot: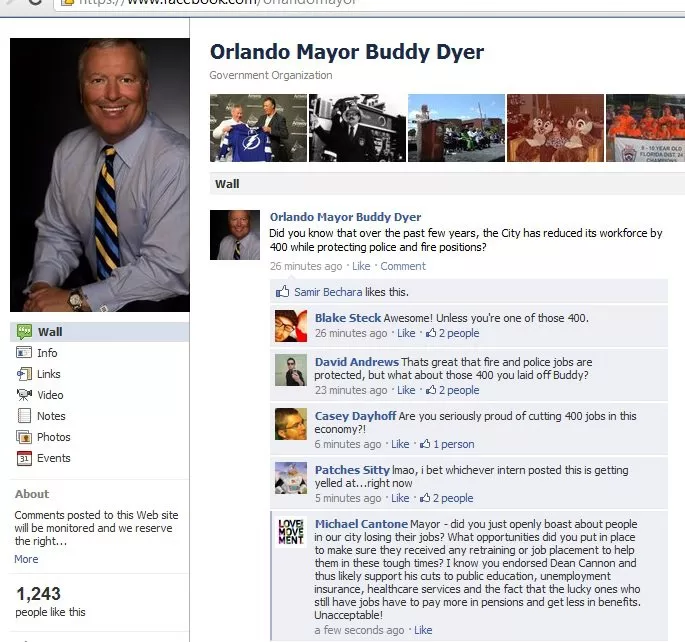 Granted, at least two of the above comments come from outspoken activists with the group Organize Now, but still, it probably wasn't the best idea to brag about cutting hundreds of jobs, given the continued mass of foreclosures, a persistently high unemployment rate, and, of course, glaring homelessness.
Just in case you're in an especially wonky mood, we've attached below the two of the handouts given to the Mayor and City Commissioners on the morning of July 11 regarding next year's proposed budget. Suffice to say, you won't find it on Facebook.
[scribd id=60675750 key=key-tm0yo75umpb05jgt29r mode=list]
[scribd id=60675758 key=key-2bg4t6twdrucjn68qxb0 mode=list]