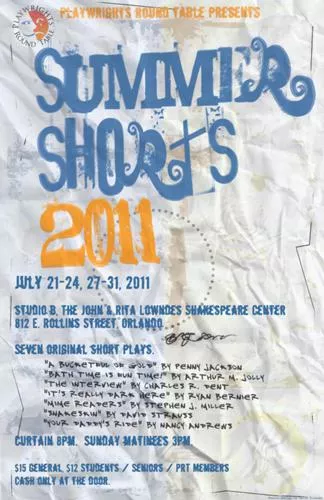 For a building dedicated to a dramatist who's been dead almost 400 years, the Lowndes Shakespeare Center (Orlando Shakes to it's friends) plays host to a surprising number of brand new plays. Of course there's Playfest!, the Harriet Lake-sponsored script-development festival that returning in early November. And it was recently announced that Satchmo at the Waldorf, Wall Street Journal drama critic Terry Teachout's new docudrama about jazz great Louis Armstrong, will have its world premiere at Shakes in September, with Rus Blackwell directing Dennis Neal in the one-man "theatrical tour de force."
Filling the Shake's new-script gap until Fall is Playwrights' Round Table, whose annual "Summer Short" program premiered last weekend and continues Wednesday through Sunday (July 27-31). This collection of seven short plays marks the beginning of PRT's 2011/2012 season, the organization's first full-year schedule. Following October's 2nd annual John Goring Memorial Festival of original one-acts, and next January "Launch" of seven more shorts, PRT plans to produce it's 1st (hopefully) annual "Premiere Series" full-length play in March 2012. To accompany the expansion, the organization even overhauled their website at ThePRT.com earlier this year.
With all the changes PRT is experiencing, after several years of seeing their programs, one thing seems consistent: inconsistency. For patrons, part of supporting PRT's mission to promote new plays is putting up with some less-than-polished work. Each of the seven shorts on this season's playbill features a clever conceit, compelling character, or well-crafted performance – but rarely more than one in combination. And all could stand some editing to sharpen their intent: a 15 scene shouldn't have time to feel saggy.
In his introductory remarks, PRT Assistant artistic Director Charles Dent explained that this summer's program wasn't intended to have any underlying theme, but that a through-line of "identity" emerged by happenstance. I understand his interpretation, but to me the even more obvious connective thread was "employment" (which I suppose is a major component of identity for most people). Almost without exception, each show centered on someone seeking a job, trying to hold on to a job, or recovering from leaving a job. I guess with our local double-digit unemployment it's only natural that on-stage art will reflect our economic life.
If you want check it out for yourself, shows are at 8pm (3pm Sunday) and tickets are $15, cash only at the door. In the meantime, here's a thumbnail guide to the offerings:
The Interview by Chuck Dent (directed by David Strauss): Miles Berman is appealingly geeky as a desperate job applicant in a near-future of 35% unemployment, but Hayes Schardt's take on an Ayn Randian industrialist is a little too stiff and slow for sharp satire.
It's Really Dark Here by Ryan Bernier (directed by Heather Lam): Alison Prouty is devilishly devious as an overshadowed sibling who e-sabotages her idealized older sister (Amy Schwartz) in this "Afterschool Special" answer to Heathers. A fine idea, but too cinematic in structure to be effective as a staged short.
A Bucketful of Gold by Penny Jackson (directed by Sylvia Viles Vicchiulo): A southern belle runaway bridezilla (Amy Pastoor) and a paramedic World Trade Center survivor (Curt Whirl) make a connection on the Staten Island Ferry. Strong character work is slightly undermined by static staging and shortcut 9/11 sentimentality.
Mime Readers by Stephen J. Miller (directed by Christian Read): The funniest script in the lineup featuring Tara Corless and Drew McCalmon as a couple of mimes who communicate their intimate interior monologues (unfortunately via a hard-to-understand recording) while performing their pantomime for an apathetic audience.
Your Daddy's Ride by Nancy Andrews (directed by Kristen Dewey): Miles Berman is back as a snobbish rich kid who drag-races his father's mint GTO against his less-fortunate classmate's Bondo-covered Charger. The gearhead gab rings authentic, but the mushy accents and anticlimactic conclusion don't.
Snakeskin by David Strauss (directed by Chuck Dent): David Strauss stars in his own script as an emotionally broken Iraq war vet, with Jenny Ornstein as his masochistically empathetic fiance. There's great potential in these characters, and the actors' cathartic breakdowns are affecting, but their excessively-eloquent verbosity feels unrealistic.
Bath Time is Fun Time! by Arthur M. Jolly (directed by Jonathan Jimenez): For desert, this confection imagines a quartet of bathtub toys (David Goldstone, Max Goldstone, Rob DelMedico, and Rachael West) caught in a theological schism over the soapy nature of divine salvation; a delightful concept that never quite finds it's comic rhythm.