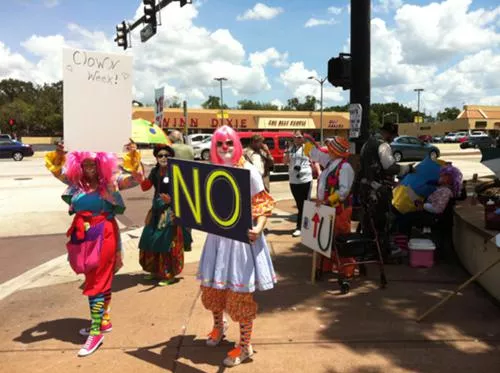 Clown "protest" on Colonial Drive (8/6/11)
It all started around 11am on Saturday, August 6th. As I drove up Bumby Avenue, I spotted a couple of clowns loitering at the Colonial corner. By the time I passed in the other direction an hour later, there was a dozen of them, standing on the sidewalk and waving signs.
"What are you doing here?" I asked the a clown carrying a placard with a rebus reading  "I Oppose"
"Protesting!" she said firmly.
"What are you protesting against?" I inquired.
She shrugged her shoulders. "Nothing."
Turns out that this crew of clowns comes from the Fun World Clown Alley, Orlando's oldest non-profit clowning school. The group's mock-protest (which included walking a family across the Colonial crosswalk with noisy fanfare, possibly saving their lives) was in commemoration of National Clown Week. Believe it or not, the nation has officially dedicated the first week of August to the art of clowning ever since 1971, when Richard Nixon signed a presidential proclamation.
By 1pm, the clowns began to disperse, leaving behind only the following evidence and the faint odor of greasepaint.
Youtube Video: Clowns on Colonial!
[gallery link="file" columns="2" orderby="title"]