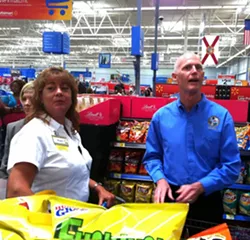 Today Gov. Rick Scott went shopping for school supplies at the Walmart on Princeton Street, and in our zeal to get a photo of him with an iPhone, we missed the best shot ever: Rick Scott posing with Funyuns. Damn.
But we did get him trying to glad-hand some nice people. People who happened to have some Medicare concerns. He took their info and promised to look into it.
And he also glad-handed us.
We'll post more video to the blog later, and we'll have our
in-depth analysis
of the governor's school-supply shopping list in next week's Happytown. Don't miss! More photos, courtesy of
Orlando Weekly
's art director Dave Plotkin!