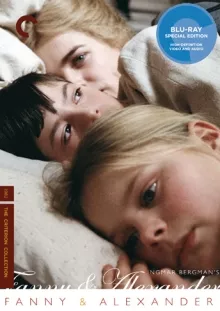 After a few months of only occasional excitement on Announce Day, Criterion unloaded a blockbuster slate on us today.
It includes the previously known titles of The Three Colors Trilogy, and the double-dips of The Rules of the Game and Rushmore.
It was expected to be rounded out by Bitter Rice and Y Tu Mama Tambien, but they are no where to be found.
No one expected to see the long sought after Bluray box set of Ingmar Bergman's Fanny and Alexander or the Bluray of  Sidney Lumet's 12 Angry Men (which includes the original television broadcast).
There is also the Sabu! Eclipse box set to round the month out, featuring The Jungle Book, The Drum and Elephant Boy, none of which I've seen, so I can't offer an opinion on, but Sabu is great in films like Powell and Pressburger's The Thief of Bagdad and Black Narcissus.
The Fanny and Alexander box set wasn't even on my radar, honestly. In the Mood for Love and A Brighter Summer Day were the two titles I've been looking for every Announce Day, but if I had my choice of any title to get the Bluray treatment in Criterion's library it would have been Fanny and Alexander -- it's my favorite film. Ever.
Yes, my favorite movie ever is a TV movie.
Everything about it -- the wintry atmosphere, the cast, the fantasy-driven devilishness of the plot, Alexander's firm stance, even the allusions to Hamlet -- is, to me, perfect. It has that same quality to it as Goodfellas where it spends so much time making you comfortable and reeling you in before dropping the anvil down on your head. I highly reccomend the TV edition (aka the long version) to everyone who hasn't seen it, or who wasn't that impressed by the theatrical cut.
(Remember this praise when we ask for screeners, Criterion!)