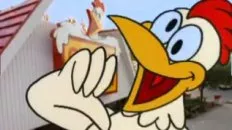 "You taste great, Clucky!"
How hungry are you?
Hungry enough to dress "head to toe in yellow" and "cluck like a chicken" at a Pollo Tropical cashier? If so, you got yourself a FREE 1/4 chicken meal -- that includes rice and beans, kids! -- so long as you do it between 2 p.m. and 7 p.m. Thursday, Sept. 15 (National Chicken Lovers Day, according to the National Chicken Council).
I really hope to see crowds of people doing this together for fun (lookin' at you, Full Sail staff) rather than poor folk sadly bok-bok-ing at the register. "This is a great way to reward our most loyal Pollo Tropical fans, and honor a holiday that recognizes our flavorful, famous signature dish," says Kim Miller, VP of marketing for  Pollo Tropical. You be the judge!