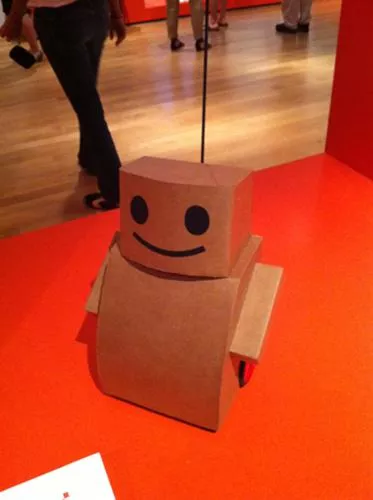 Tweenbot, an adorable experiment it human-robot empathy.
Normally, playing with your smartphone in the middle of an exhibit at Manhattan's Museum of Modern Art will earn you dirty looks for fellow museumgoers at best, and a stern talking-to from security at worst. But Talk to Me: Design and the Communication between People and Objects which is on display at MoMA now through November 7th, not only permits playing with your iPhone, it actively encourages you to scan QR codes and live-Tweet your experience.
MoMA says the show "focuses on objects that involve a direct interaction, such as interfaces, information systems, visualization design, and communication devices, and on projects that establish an emotional, sensual, or intellectual connection with their users. In English, that means it's a geek's paradise of bleeding-edge and near-future experiments in human/inanimate intercourse (in the non-sexual sense).
Some of the artifacts on display are prosaic examples of our everyday dependence on technology, like an MTA subway vending machine and 911 dispatcher's computer console. Others are late-model electronic entertainments that blur the line between videogame and performance art, including PS3's Little Big Planet and Jason Rohrer's hauntingly hopeless Passage. And many are freaky sci-fi fantasies made flesh: genetically-engineered e. coli that turns your crap crazy colors (complete with realistic plastic samples), a mood-sensing "Empathy Box" straight out of Philip K. Dick.
Of course, the core value of human interface design is consistent responsiveness – when you press a button, the machine must react to let you know it's working. Ironically, this is precisely where a few of the interactive exhibits stumbled. The "working" MetroCard machine didn't want my money, and the free Tentacles iPhone app gave no sign of affecting the lobby-level video projections as promised. Even so, this exhibit gives an intriguing (if more-than-slightly scary) insight into just how far up in your business those ubiquitous 'bots have become.
[gallery link="file" columns="2" orderby="title"]