As films the likes of Bucky Larsson and I Don't Know How She Does It starting to hit the theaters we know that, even though it might still be hot outside, summer is officially over.
Yes. It's almost Oscar season. The glorious four months of the year where good films open up every single weekend. As filmgoers, this time of year is our sacred right for having sat quietly through a terribly underwhelming summer movie season.
And of course the most sacred of sacred rights when it comes to movies is the right to bitch and moan about when the Oscars gets it all wrong.
It's in that spirit that we present The Revisionist Oscars, a look back at Oscars past to see what they got right, what the got wrong and, well, what they really got wrong.
To get us started off it'll be the 72nd Academy Awards, which took place on March 26th, 2000, recognizing the films released in 1999. American Beauty swept most of the award categories, but wrongly in my opinion. Let's take a look, shall we?
BEST PICTURE:
American Beauty
The Cider House Rules
The Green Mile
The Insider
The Sixth Sense
We can see right off the bat that this isn't a strong year. When was the last time you watched The Cider House Rules? How many minutes has it been since you told an M. Knight Shamalamadingdong joke? As for The Green Mile, let's just pretend that never happened, yes?
Just to start out, I would replace those three with (or add, under the new rules) Toy Story 2, The Matrix, and Tim Robbins' Cradle Will Rock. With hindsight I believe Toy Story 2 and The Matrix would be nominated anyway, though perhaps The Sixth Sense would keep its spot over Cradle Will Rock, since I appear to be one of six people who saw it (time for an Underrated, perhaps? I think so). Woody Allen's Sweet and Lowdown, starring Oscar fave Sean Penn, Spike Jonze and Charlie Kaufman's Being John Malkovich, and Pedro Almodovar's All About My Mother would also have been strong candidates.
It's not that I think American Beauty is a bad film, it's just that I thought it was a thoroughly mediocre one that had scenes that shocked people into higher estimations, and the cast aside from Anette Benning, Chris Cooper and Allison Janney really didn't move me at all. It was really Janney that stole the film for me with her emotionally destroyed Mrs. Fitts, not Kevin Spacey's Lester.
So what would have won if I were God? If we are sticking with only films nominated, the win would have to go to The Insider. With an incredible script from Michael Mann and Eric Roth, and performances from Al Pacino and Russell Crowe that still resonate, the film largely overcame some of the factual inaccuracies and the grand excesses that come along with Mann's directing style. It's topic -- censorship -- is perhaps even more relevant now in the age of Wikileaks. Marketing failed the film when everyone thought it was an expose of cigarettes and not an expose on censorship in the corporate media world (which, God, that still makes it sound dull -- it's not), but it's still pretty clear that this is the role that Russell Crowe actually won his Oscar for, not Maximus. And rightly so, I think.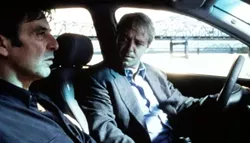 But if we open it up to my three additional nominations my vote would go for the scrappy little animation that started out life as a direct-to-video release until Disney realized what they had on their hands. Yes, Toy Story 2 would be my choice for the 1999 year in movies. Lasseter and Co really delivered an exciting, touching story, as riotously funny as the first film, but with improved animation and a grand scale story that brought the toys out into the world. It goes down in history as one of the very few sequels to be better than the original.
Some other picks (Key: Won, should've won.):
BEST DIRECTOR:
Sam Mendes – American Beauty
Spike Jonze – Being John Malkovich
Lasse Hallström – The Cider House Rules
Michael Mann – The Insider
M. Night Shyamalan – The Sixth Sense
BEST ACTOR:
Kevin Spacey – American Beauty
Denzel Washington – The Hurricane
Russell Crowe – The Insider
Richard Farnsworth – The Straight Story
Sean Penn – Sweet and Lowdown
BEST ACTRESS:
Hilary Swank – Boys Don't Cry
Annette Bening – American Beauty
Julianne Moore – The End of the Affair
Meryl Streep – Music of the Heart
Janet McTeer – Tumbleweeds
BEST ORIGINAL SCREENPLAY:
American Beauty – Alan Ball
Being John Malkovich – Charlie Kaufman
Magnolia – Paul Thomas Anderson
The Sixth Sense – M. Night Shyamalan
Topsy-Turvy – Mike Leigh
BEST ADAPTED SCREENPLAY:
The Cider House Rules – John Irving
Election – Alexander Payne and Jim Taylor
The Green Mile – Frank Darabont
The Insider – Michael Mann and Eric Roth
The Talented Mr. Ripley – Anthony Minghella