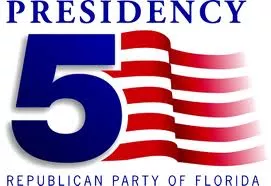 More from Casey Morell, live from the Presidency 5 event/debate at the Orange County Convention Center:
I've now been firmly entrenched on this couch for about two hours -- the media room is filling up and these couches in the blog/new media/other people area are now almost full. Bill O'Reilly is talking to Laura Ingraham right now on the massive screen in front of me; none of us is watching. In fact, it's kind of surreal -- each of us in this space is tapping away at keyboard keys on MacBooks or netbooks or just scrolling through emails and messages on BlackBerries or iPhones, snuggled up with our YouTube pillows, Google swag (stickers! cute lapel pins!) and those addictive smoothies.

There are a few conservative bloggers here -- no sign of the Drudge Report, though. But most of the press corps present seem to be from the various state newspapers, whose words will reach a few people here and there through syndication and whatnot.

Ally Bank keeps running a commercial that features the same opening bars of that Beethoven symphony that Keith Olbermann uses at the start of every episode of "Countdown." That's really the only sound that makes people look up, thinking that maybe someone screwed up the channel selection and Current somehow came on.

Google's breaking out the coffee now for us -- we've been here for a while, mind, and the night is young -- and a few of my colleagues (can I say that? Well, we have the same press passes, so sure) are slowly ambling that way. The setting is not unlike what i would imagine a high school reunion to be like -- lots of people who vaguely know each other trying to find small talk to be polite ("Oh, you work for The Daily Caller? Neat"). Virtually everyone here is instead tweeting for his or her respective news organization; not a physical, paper notebook has been seen.

With 40 minutes to go before the debate, it'll be interesting to see what makes us in this room groan. I get the sense that most share the feeling that we're about to see a fair bit of kabuki theater.

Casey Morell is the general editor of the New College of Florida Catalyst and interned with Orlando Weekly in the summer of 2010.