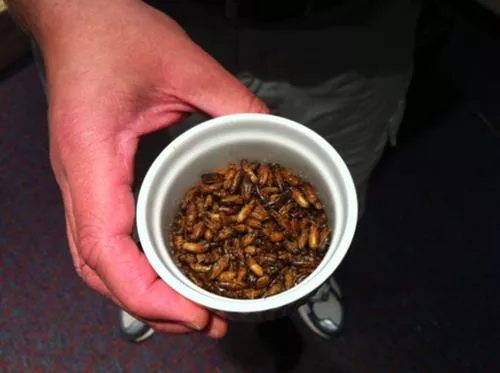 Crunch Cajun Crickets at the Orlando Science Center's new "Harry's Big Adventure"
This weekend, the Orlando Science Center debuts its latest traveling exhibit, "Harry's Big Adventure," which explores the world of insects through the eyes of a friendly Praying Mantis. I took a brief tour of the under-construction attraction with Katie Wassmer, spokesperson for ironic sponsor Terminix ("We celebrate bugs in their natural habitats, but not in your bed.)
While checking out the interactive displays -- which include a racetrack for Madagascar hissing cockroaches, and a bug-spitting distance competition -- I had a chance to chat with Jayme Necaise, Director of Animal and Visitor Programs at New Orleans' Audobon Insectarium. He's the head "bug chef" for the exhibit, and will be on hand to offer samples of insect-based snacks at Friday night's VIP opening event.
"Harry's Big Adventure" is included in admission to Orlando Science Center, and will be open to the public from this Saturday Sept. 24  through New Years Day. In the meantime, check out this video to see the results of my first encounter with edible crickets:
[youtube tCdAiwjdP98]
[gallery link="file" columns="2" orderby="title"]