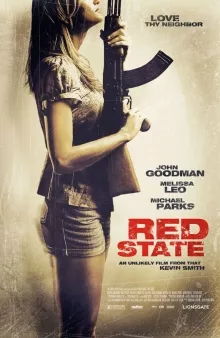 Red State
Dir: Kevin Smith
1 Star
It's hard to recall a movie that's more confrontational than Red State. Both the film itself – a damning portrait of a super-strict cultist religion based on Fred Phelps and the Westboro Baptist Church – and its director began the journey to the screen in a highly combative spirit. Most of what Smith himself has done reeks of a wounded ego after his last film, Cop Out, faced a severe critical drubbing that he still has not recovered from. I suspect many of us would have the same lingering issues to deal with if we faced such harsh criticism, but Smith, like Elizabeth Wurtzel or Sarah Palin, brings much of it on himself through his outspoken Twitter feed and podcasts in a time when the people have a more powerful voice than the ones with the megaphone.
But to spend too much time on that is to miss the point, perhaps. There is a film on the line here, and a new distribution model is being tested. It's a film and distribution model we've been hearing about for years through the hard road that Red State faced to get financed, both due to its religious content, and how much of a departure it is from its director's previous work.
Different may be an understatement: There is very little in the way of an authorial stamp to Red State beyond the sex jokes that it kicks off with, and the religious trickery at its conclusion. But those jokes are generic, far removed from the gasping-for-breath hilarity of Clerks or Chasing Amy, and the trickery in comparison to Smith's Dogma.
That Matt Damon-starring firestarter was the charming story of two morons, the black 13th apostle and a Catholic girl with a shortage of faith who try to stop two rogue angels from destroying the world by proving God wrong. It came with an authenticity, a confidence and a certain playfulness. But Smith grew up a good Catholic boy in New Jersey, so that was in his nature. Red State, about an extreme anti-gay protestant splinter group that loves guns (and, apparently, knitting), is a foreign concept to most rational people, Smith included. Where Dogma had wit and insight built on a lifetime of thought, Red State has an outsider's kneejerk reaction to a sick cult, one that slowly devolves into caricature by film's end, rendering it a wholly useless take on the subject.
The film is essentially more of a Waco or Ruby Ridge story than it is a Westboro Baptist Church commentary. After luring in several victims (led by Michael Angarano as Travis) with the promise of sex, the congregation proceeds to drug and cage them. They execute a gay man who is wrapped in plastic in order to, it seems, keep his gay blood from touching their altar. The escalation of violence is a somewhat abrupt turn from the light beginning of kids looking to get laid via computer, but it's not wholly unexpected. From there, it's something of a race against time for the three remaining victims to escape the heavily fortified compound before the ATF, led by a totally wasted John Goodman performance, lays siege to the building.
The churchy segment starts off strong, with Michael Parks (as homophobic madman mastermind Pastor Abin Cooper) stealing the film with a 20 minute-long sermon that outlines the ethos and venom of the church's faith. Aside from that, however, very little about this thing works. It's not insightful or funny. The story is betrayed right off the bat by a stunningly weak script, something that's normally Smith's strong suit, and weak direction that doesn't know what to do with its stars, including Melissa Leo. Red State lacks focus and clarity, has no real point of view, and if you buy a second of the climax, I've got a bridge and some magical beans to sell you.
The distribution model – a road tour followed by VOD availability and a limited theatrical release – may work for Smith, but he's spent almost 20 years now building up a fairly loyal fan base (including this writer). So, like Nine Inch Nails or Radiohead or Joe Swanberg's big idea, this kind of self-distribution can work for him, but it won't be the kind of "revolution for the little guy" that was promised. You have to have a name and the sellable personality to match to get away with this kind of thing, and if he has nothing else in life, Smith has exactly that.
Red State plays a one night only engagement at the Enzian Theater on Sunday, September 25th, at 10pm, followed by a live Q&A (via satellite) with the big man himself. $20. (Also available on VOD.)